What kind of beans work best in this black bean burger recipe?
I made these burgers with black beans which also happen to be my favorite type of bean. After you wash and oven roast them for 15 mins they become perfectly squishy which helps the patties to hold together as you cook them. Black beans are very tasty and give these burgers a richness of flavor that other beans might not. A great brand of black beans is Bush's Best, which you can find at most grocery stores. You can also buy a bag of beans and cook them yourself if you want the freshest beans possible.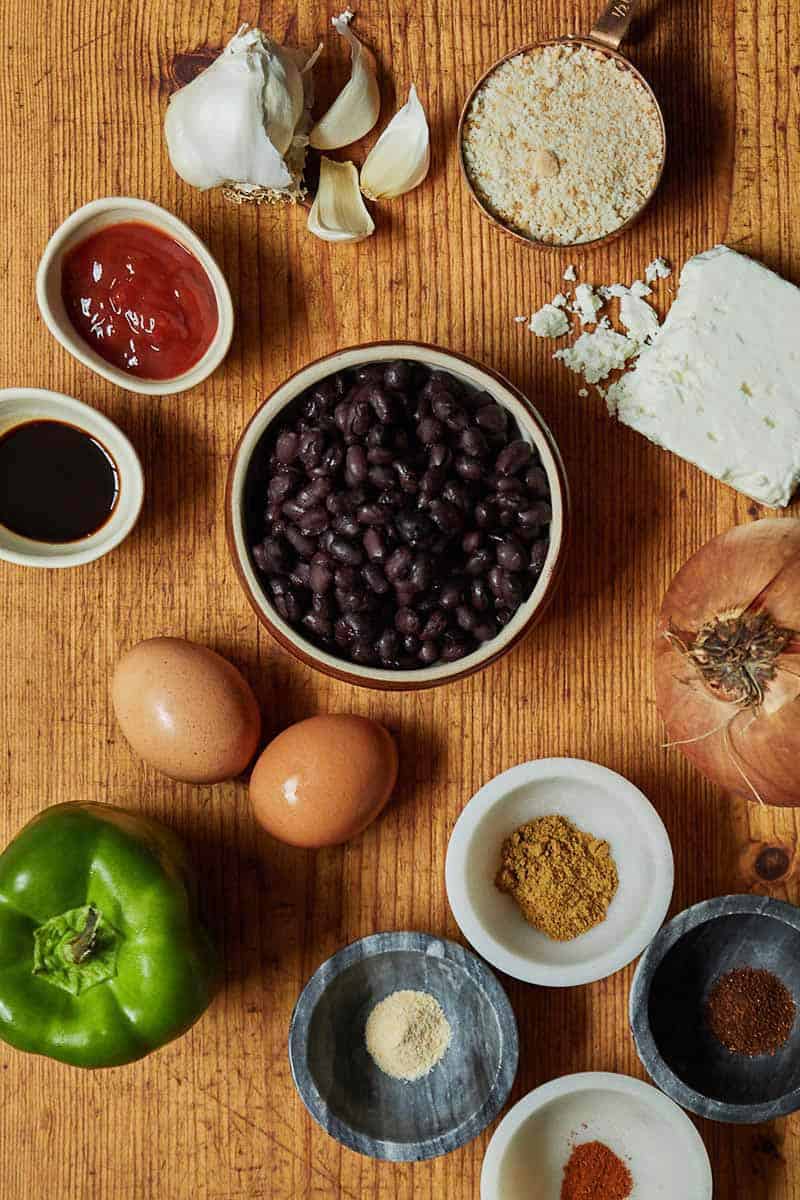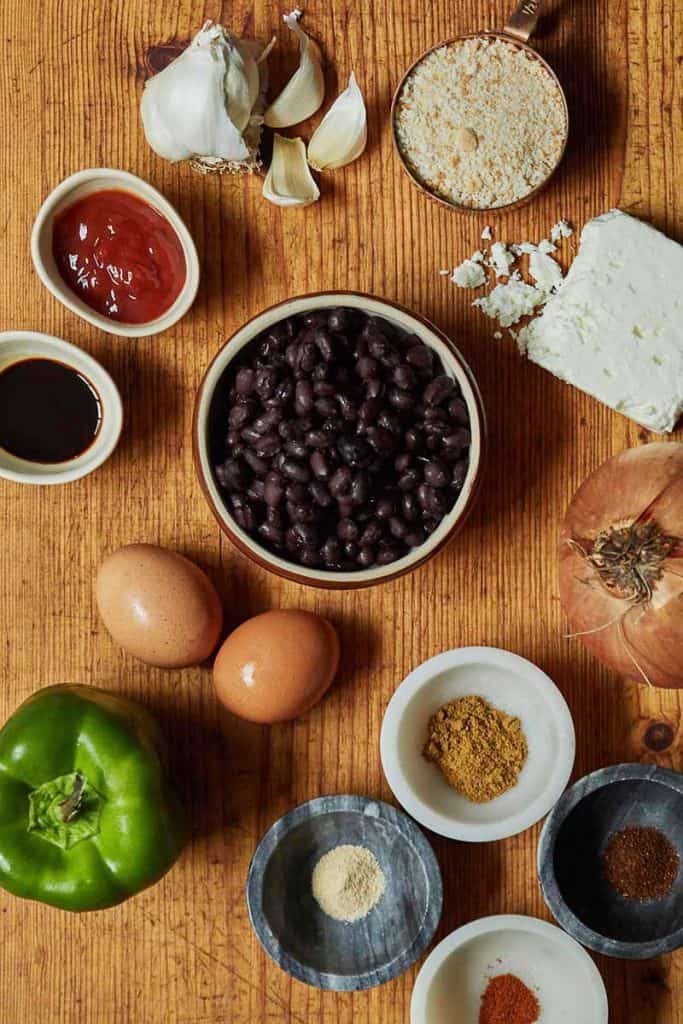 What are some great toppings for these black bean burgers?
You can top these burgers with any of the classic burger toppings: onion, tomato, lettuce, ketchup and mustard. If you want to put a little more time into them, you can also cook up some regular or turkey bacon to give the burger a crispy crunch. I also love slices of avocado on my burgers because they add a softer, creamy texture.
Top tips for this recipe:
Make sure you only cook these burgers until you have a good sear on the outside. If you cook them too long they will dry out and lose flavor, just like a meat burger.
If you can find feta cheese crumbles in the store that will save you a step but if you can only find feta blocks, that's fine too. Crumbling the cheese is easy- just mash the end with the pointy end of a fork.
If you love to BBQ make sure you check out my favorite BBQ recipes on my blog:
Recipe Video: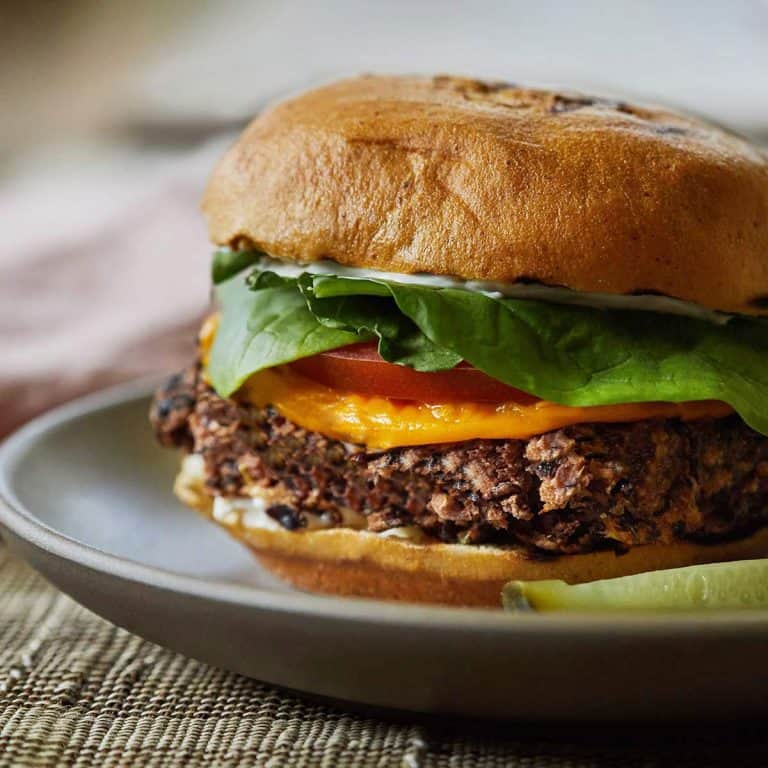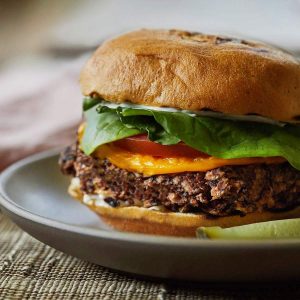 Print Recipe
Black Bean Burgers
I am a big fan of all kinds of meat- beef, chicken, pork, and fish. However, as I have gotten older I have realized that taking a break from animal protein is a good thing. The hard part is finding substitutes that give you the same heartiness as the real thing. These black bean burgers are amazing because they taste incredible and feel really hearty when you bite into them. You might even convert some of your diehard meat-eating friends at your next BBQ!
Ingredients
2 (14 oz)

cans

black beans

drained, rinsed, patted dry

2

tbsp

grapeseed oil

divided in half for cooking

½

bell pepper

chopped

½

large yellow onion

chopped

3

garlic cloves

minced

1 ½

tsp

ground cumin

1

tsp

chili powder

½

tsp

garlic powder

¼

tsp

smoked paprika

½

cup

panko bread crumbs

I use gluten-free panko

½

cup

feta cheese

I use goat or sheep milk feta

2

eggs

1

tbsp

Worcestershire sauce

2

tbsp

ketchup

salt and pepper to taste
Instructions
Preheat oven to 325°F. Line a baking pan with parchment paper and spread beans evenly on pan. Bake for 15 minutes to slightly dry out the beans.


While the beans are baking in the oven, sauté 1 tbsp of grapeseed oil with chopped onion, bell pepper and garlic over medium heat until soft (approx 5 minutes).

In a food processor, combine sautéd onion, bell pepper and garlic with remaining ingredients and pulse until everything is combined. Then add in black beans and pulse lightly (you want the bean mixture to be somewhat chunky so be careful not to blend too much).

Form mixture into patties. This recipe makes 6-7 patties which is about ⅓ cup of mixture each.

Heat a pan (I used a grill pan) to medium-high heat and add in remaining 1 tbsp grapeseed oil. Cook patties on both sides, approx. 8 minutes each side.

Serve on a bun with toppings of your choice.
Nutrition
*
Nutrition Disclaimer