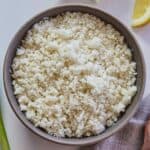 Print Recipe
How to Make Cauliflower Rice
Learn How to Make Cauliflower Rice with this quick and easy guide. It is such a simple way to get an extra serving of vegetables into your daily diet.
Cut cauliflower into chunks/florets including the core/stem and rinse and pat dry. To make it easier, you can just use pre-cut cauliflower florets.

Place in food processor and pulse until the cauliflower becomes rice size. Optional to grate using a grater if you don't have a food processor.

You can enjoy the cauliflower rice raw or optional to cook it by sautéing it in a pan over medium high heat with olive oil for 5-8 minutes. Season the cauliflower rice to your liking (salt, pepper, lemon juice, etc.)
If you don't have a food processor or grater, you can finely chop the florets instead to rice them. 

Try to cut your cauliflower florets similar in size, ideally just under 2 inches. If the florets are too large or too small, you'll end up with uneven pieces when you pulse them in the food processor. The smaller pieces will end up mushy. So, if you see a large piece in the food processor, but the rest of the cauliflower has been riced, remove it and pulse it in a second batch instead. 

Add the florets in batches in the food processor if necessary; you don't want to overload the food processor.

Avoid overcooking the cauliflower rice as the cauliflower can go from tender to soggy if it has been on the stove for too long.
Calories:
36
kcal
|
Carbohydrates:
7
g
|
Protein:
3
g
|
Fat:
1
g
|
Saturated Fat:
1
g
|
Polyunsaturated Fat:
1
g
|
Monounsaturated Fat:
1
g
|
Sodium:
43
mg
|
Potassium:
430
mg
|
Fiber:
3
g
|
Sugar:
3
g
|
Vitamin C:
69
mg
|
Calcium:
32
mg
|
Iron:
1
mg