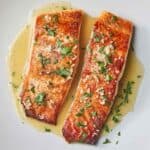 Print Recipe
Pan Seared Salmon
This Pan Seared Salmon is so simple but delicious! Made in less than 30 minutes, this salmon recipe only requires a handful of ingredients. This is an effortless weeknight dinner that will have your mouth watering as the salmon starts sizzling in the pan.
For the salmon:
4

salmon filets

(6 oz) about 1" thick

1

tbsp

olive oil

salt and pepper

to taste
For the sauce:
2

tbsp

butter

2

cloves

garlic

minced

2

tbsp

lemon juice

¼

cup

chicken broth

salt and pepper

to taste

chopped parsley

for garnish
Heat a pan over medium-high heat and add the olive oil.

Cook the salmon, skin side up until golden, about 3 - 4 minutes. Lower the heat to medium and flip the salmon to skin side down. Cook for 5 minutes more or until it has reached your desired doneness.

While the salmon is cooking, prepare the sauce- heat a saucepan over medium heat and add the butter. Once the butter has melted, add the garlic and cook until fragrant, about 2 minutes. Add the lemon juice and chicken broth with salt and pepper to taste and whisk to combine.

Garnish with the lemon garlic sauce and chopped parsley.
As the time it takes to cook through your fish may vary due to the thickness of your fillet, I suggest you check up on it at the 8-minute mark with an instant-read thermometer. Salmon is cooked through once the internal temperature has reached 120°F to 135°F.
To ensure a crispy exterior, before adding to the pan, make sure to pat the salmon fillets dry if there is moisture on them.
Make sure the pan is hot before adding the salmon to it, so you get a nice sear.
When the salmon is done, don't let it rest in the hot pan, or it'll continue to cook and become overcooked. 
Try to bring the salmon close to room temperature before you sear it. If you pan-sear salmon straight from the fridge, the fish won't cook evenly. You might end up drying out the outside and before the interior reaches the ideal temperature. 
If your salmon has the skin on, there's no need to remove it as the skin will help the salmon from overcooking.
Avoid moving the fillets around the pan once you'd placed them in. You don't want the salmon to tear. The salmon will stick immediately but will naturally release once the exterior has crisped up.
Calories:
329
kcal
|
Carbohydrates:
1
g
|
Protein:
34
g
|
Fat:
20
g
|
Saturated Fat:
6
g
|
Polyunsaturated Fat:
5
g
|
Monounsaturated Fat:
8
g
|
Trans Fat:
1
g
|
Cholesterol:
109
mg
|
Sodium:
1244
mg
|
Potassium:
867
mg
|
Fiber:
1
g
|
Sugar:
1
g
|
Vitamin A:
324
IU
|
Vitamin C:
5
mg
|
Calcium:
28
mg
|
Iron:
2
mg