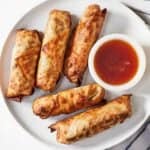 Print Recipe
Air Fryer Egg Rolls
The perfect appetizer or snack, these Air Fryer Egg Rolls come together quickly and easily! They're crispy and crunchy on the outside while tender and full of flavor on the inside, making them absolutely irresistible. They come out perfectly golden brown without needing a deep fryer!
2

tbsp

vegetable oil

2

clove

garlic

minced

2

tsp

ginger

minced

2

cups

coleslaw mix

½

lb

ground pork or chicken

1

tbsp

soy sauce

1

tbsp

sesame oil

2

green onions

chopped

12

egg roll wrappers

olive oil spray
In a large pan over medium heat add the vegetable oil and saute the garlic and ginger until fragrant, about 1 minute. Add the coleslaw mix and cook until wilted.

Add the ground chicken or pork, soy sauce, and sesame oil and cook until the chicken has cooked through. Add in the green onions and cook for another minute. Set the mixture aside to cool.

To wrap the egg rolls, place one wrapper so that one of the corners is pointing toward you. Place 2 tablespoons of the mixture almost in the middle of the wrapper, just slightly closer to you. Fold the nearest corner to you over on top of the mixture and roll. Fold in one side at a time, first the left then the right. Roll the egg roll over once more and tuck the top corner over the top. Seal the edges with water or beaten egg. Repeat until all the egg rolls have been formed. ?Spray each with a light coat of olive oil spray.

On a single layer in the air fryer, cook the egg rolls at 400 F for 10 to 12 minutes flipping over halfway through the cooking time. Cook until they are golden and crispy.

Serve with duck sauce.
Do not leave the egg roll wrappers out as they will dry out. Keep the wrappers covered with a damp linen napkin as you work through rolling them.
Avoid overfilling the egg rolls as they will burst in the air fryer as they cook.
When rolling the egg rolls, make sure to roll them as tightly as possible so the filling stays compact, and they keep their shape as they air fry.
Sealing the edges with water or beaten egg is a must, or the egg rolls will unroll themselves.
Make sure the egg rolls aren't touching in the air fryer basket so the hot air can circulate properly and they air fry evenly.
If you have leftover filling, serve it with my cauliflower rice for an easy lunch.
Calories:
101
kcal
|
Carbohydrates:
9
g
|
Protein:
5
g
|
Fat:
5
g
|
Saturated Fat:
1
g
|
Polyunsaturated Fat:
2
g
|
Monounsaturated Fat:
2
g
|
Trans Fat:
1
g
|
Cholesterol:
17
mg
|
Sodium:
172
mg
|
Potassium:
141
mg
|
Fiber:
1
g
|
Sugar:
1
g
|
Vitamin A:
33
IU
|
Vitamin C:
5
mg
|
Calcium:
15
mg
|
Iron:
1
mg