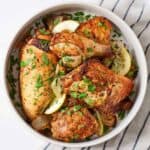 Print Recipe
Air Fryer Lebanese Chicken
This Air Fryer Lebanese Chicken recipe is full of so much flavor that you'll want to make it again and again. This Lebanese-style chicken is zesty, savory, and absolutely delicious. It comes together in a few quick steps, and then the air fryer does the rest!
In a small mixing bowl, combine all of the spices- salt, pepper, coriander, onion powder, cumin, and cinnamon.

Place the chicken on a large mixing bowl and toss with olive oil. Then add the spice mixture and toss again to coat the chicken.

Add the chicken, onions, garlic, and lemon juice into a large ziplock bag and marinate for at least 30 minutes, up to over night.

Once the chicken has finished marinating, remove from the ziplock bag and place in the air fryer basket.

Air fry for 35 to 40 minutes at 350 F or until the thickest part of the chicken has reached an internal temperature of 165 F.
If there is moisture on the chicken, pat them dry with a paper towel before adding the oil and seasoning. Patting dry the chicken helps the seasoning stick much better. 

You can easily turn this Lebanese chicken into a wrap or salad. After you air fry the chicken, allow it to rest before shredding the chicken to stuff into a warm naan or pita bread or place it overtop of a salad. 

The easiest way to make sure the chicken is ready is by using an instant-read thermometer. The chicken should have an internal temperature of 165F. Be careful not to hit the bone when inserting the thermometer, as it'll lead to an inaccurate read. 

If you have time, marinating the chicken overnight makes the chicken even more flavorful.

When placing the Lebanese chicken into the air fryer, place them in a single layer. Avoid stacking them as the chicken will steam instead of crisp up. If your pieces of chicken are on the larger side, you can air fry them in two batches.