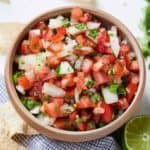 Print Recipe
Pico de Gallo Recipe
Packed with fresh, healthy ingredients, this Pico de Gallo recipe is so easy to make! This simple but delicious Mexican salsa is made with only a handful of ingredients. Enjoy it on its own with some chips or use it as a topping.
I remove the seeds from the jalapeño pepper to make it less spicy. After doing so, be sure you wash your hands immediately afterward, as the residue can give you "jalapeño hands" where your skin might feel like it's burning. You can also wear gloves when cutting jalapeño peppers to avoid it entirely. 
If you prefer a spicier dish, you can keep some of the seeds and ribs. Alternatively, you can swap the jalapeño pepper for a serrano pepper.
Make sure everything is diced to the same size so eat bite has a little bit of everything.
I recommend letting the pico de gallo rest in the fridge before serving, as the salt will draw out moisture and flavor, making it taste even better.
As there's no cooking involved with this recipe, using the best quality ingredients you can is best. A wrinkly tomato you find at the back of your fridge will not give you a fresh and delicious tasting pico de gallo like a fresh tomato will. 
If you are serving this with just some chips, try serving it with my guacamole! 
Get more juice out of your lime by rolling it under your hand on the kitchen countertop before cutting and squeezing.
Calories:
27
kcal
|
Carbohydrates:
6
g
|
Protein:
1
g
|
Fat:
1
g
|
Saturated Fat:
1
g
|
Sodium:
6
mg
|
Potassium:
276
mg
|
Fiber:
2
g
|
Sugar:
3
g
|
Vitamin A:
949
IU
|
Vitamin C:
23
mg
|
Calcium:
16
mg
|
Iron:
1
mg