Sponsored by Bragg
I have been a long time fan of Bragg products and especially their famous Apple Cider Vinegar. They recently asked me to create a Valentine's Day themed video for them featuring their ACV as a gummy! It was a wonderful creative challenge that I was really excited to try. See the full recipe for these apple cider vinegar gummies below!
Is it difficult to make apple cider vinegar gummies?
Making apple cider vinegar gummies is very easy. If you have ever made jello, you can make these gummies. There are only 4 ingredients in this recipe: strawberries, apple cider vinegar, honey, and gelatin. For the gelatin, you can use vegan gelatin if you wish or you can use traditional gelatin. I really liked the great red color I got from using strawberries so I would encourage you to do the same thing. If you are interested in using other fruits you could try using blueberries as well.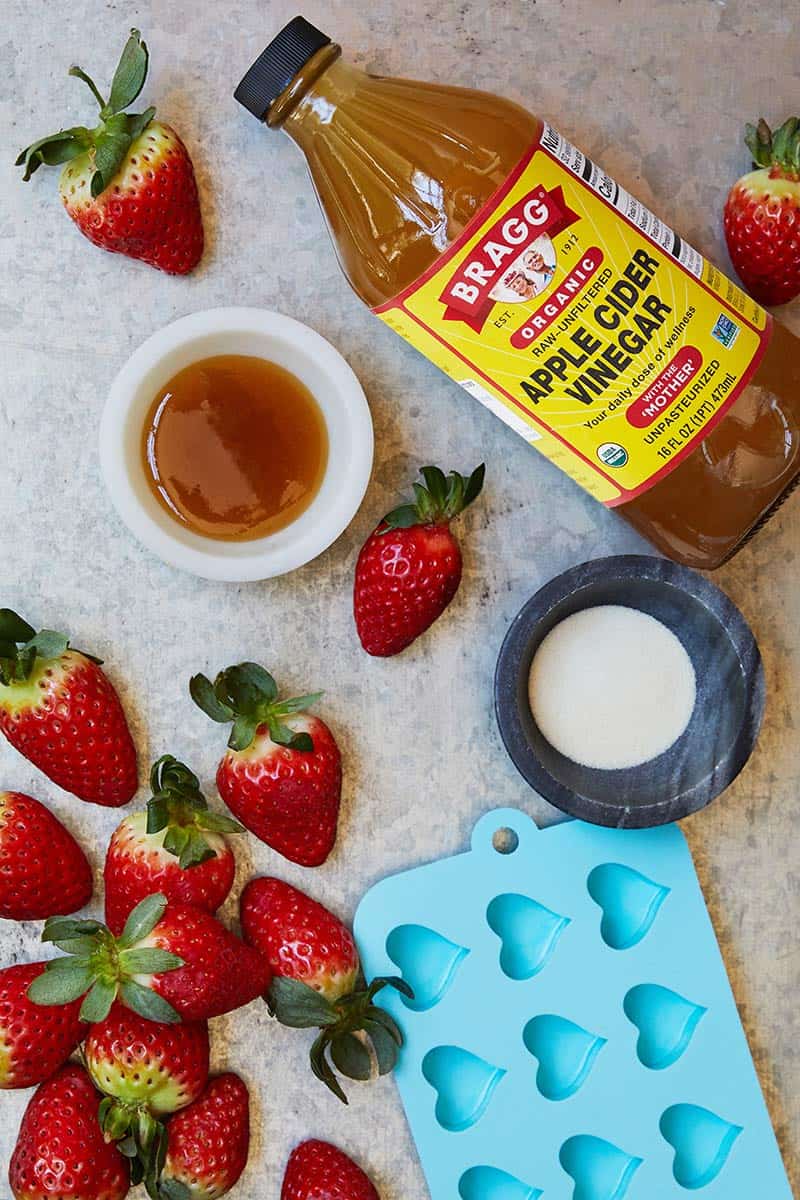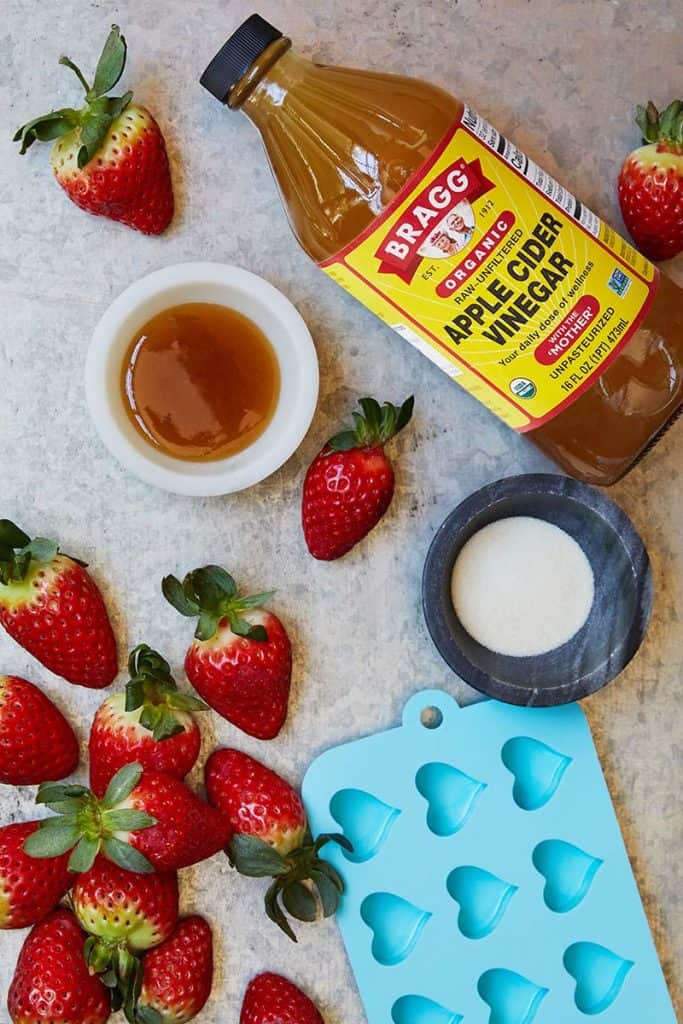 What is the difference between vegan gelatin and regular gelatin?
As I said above you can use either vegan gelatin or regular gelatin in this apple cider vinegar gummies recipe. The main difference is that vegan gelatin is not made from any animal source. Agar Agar Powder is a popular choice among vegans because it is 100% vegetable-based.
What other shapes can you make these gummies into?
I used a heart-shaped mold for these gummies because I was looking to tie them into the Valentine's Day theme. There are many different kinds of molds on the internet that are specifically created for chocolate but you can use them for gummies as well. Most importantly, look for silicone molds. They are easy to work with and allow you to pop out the gummies very easily when they are finished solidifying.
Recipe Video: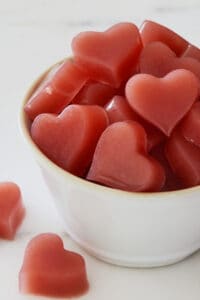 Print Recipe
Bragg Apple Cider Vinegar Gummies
Ingredients
⅔

cup

purreed strawberries

⅓

cup

Bragg Apple Cider Vinegar

2

tbsp

honey

4

tbsp

gelatin

unflavored (vegan or non-vegan)
Instructions
Puree fresh strawberries in blender. If needed, you can add a little water to dilute the mixture if it's too thick.

Heat a small saucepan over medium low heat and combine strawberry puree, apple cider vinegar and honey while stirring with a whisk.

Pour in gelatin gradually while constantly stirring to avoid any clumps.

Once gelatin is combined and melted, remove from heat.

Pour mixture into silicone mold (using a syringe is extremely helpful with this part), then place the mold into the fridge for 10 minutes and then 5 minutes in the freezer.

Store gummies in fridge in an airtight container.
*
Nutrition Disclaimer