What kind of tomatoes work best in this recipe?
You have a few choices for tomatoes in this recipe- cherry tomatoes, diced Roma tomatoes, or grape tomatoes. I really like cherry tomatoes because they are nice and sweet but also the perfect size to fit around the chicken in a skillet. When sliced in half, as the recipe calls for, you only need a pint of them. If you love tomatoes I would encourage you to put in a pint and a half because they shrink a little as they are cooking. On a purely aesthetic note, I really like multi colored cherry tomatoes because the addition of dark purple and yellow are so beautiful to look at in the finished dish.
What brand of balsamic vinegar is best in this recipe? And does it have to be aged?
I used Lucini's Aged Balsamic Vinegar but you can use any kind of balsamic vinegar you have access to. Whole Foods Brand 365 aged balsamic vinegar is good too. In terms of aged vs non-aged, I don't think the difference is very noticeable in this recipe. Of course, using an aged balsamic could give you more flavor but I'm not an expert chef so I feel that the regular balsamic vinegar works just fine for this easy chicken recipe if you want to save some money at the store.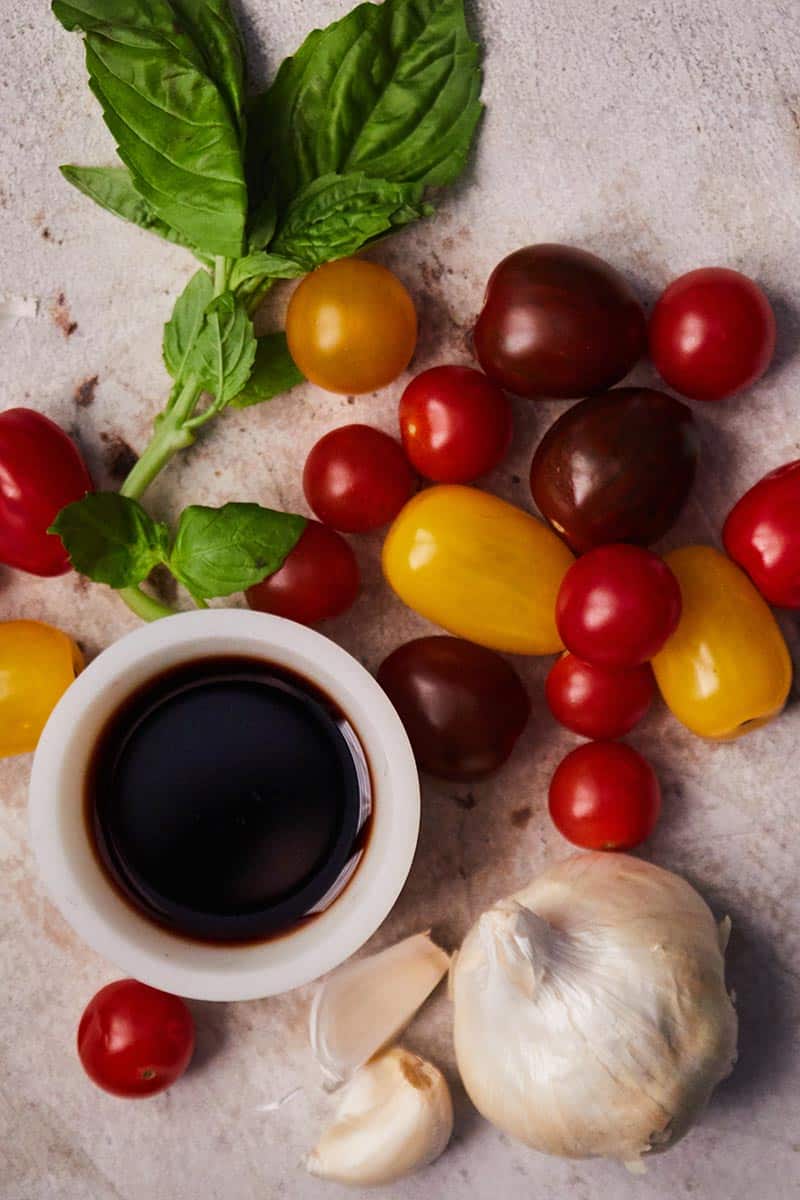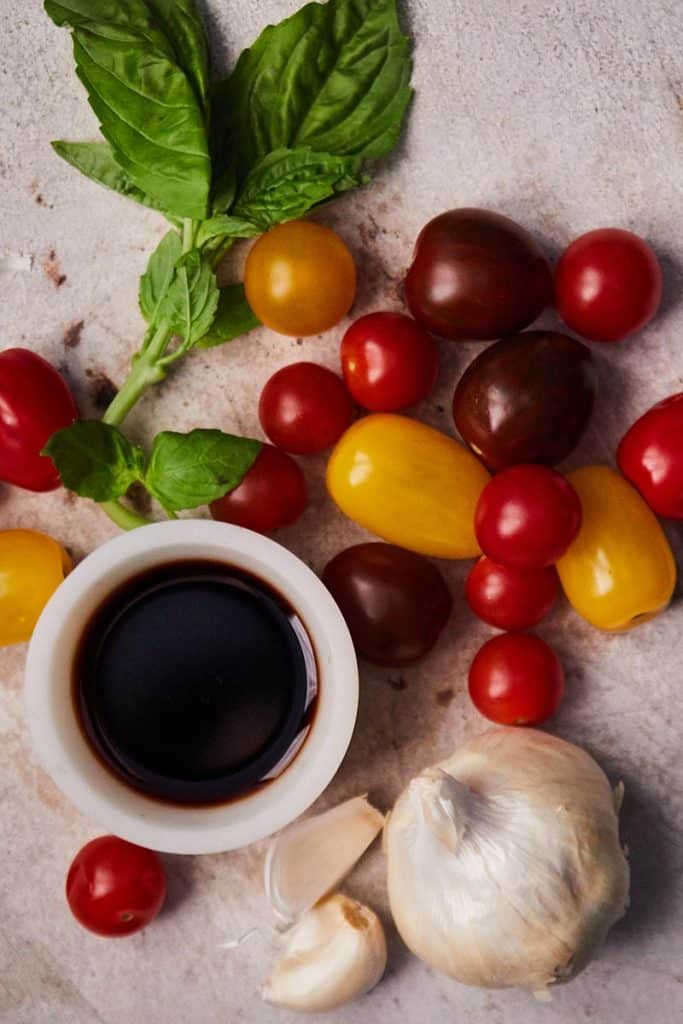 Do I have to add garlic in this recipe?
The amount of garlic this recipe calls for is quite small so if you are opposed to garlic you don't have to add it in. However, I love garlic and next time I make this recipe I am going to double the amount the recipe called for because I always feel you can't have enough garlic 🙂 If you love garlic as much as I do, be sure to check out the Garlic Chicken recipe on my blog.
Are there any good substitutes for balsamic vinegar if I don't have it or like it?
I did a quick Google search and found that if you don't like balsamic vinegar or can't find it at your local grocery store, you can make a nice substitute using 1 tablespoon cider or red wine vinegar plus ½ teaspoon sugar to substitute for 1 tablespoon balsamic vinegar.
Recipe Video: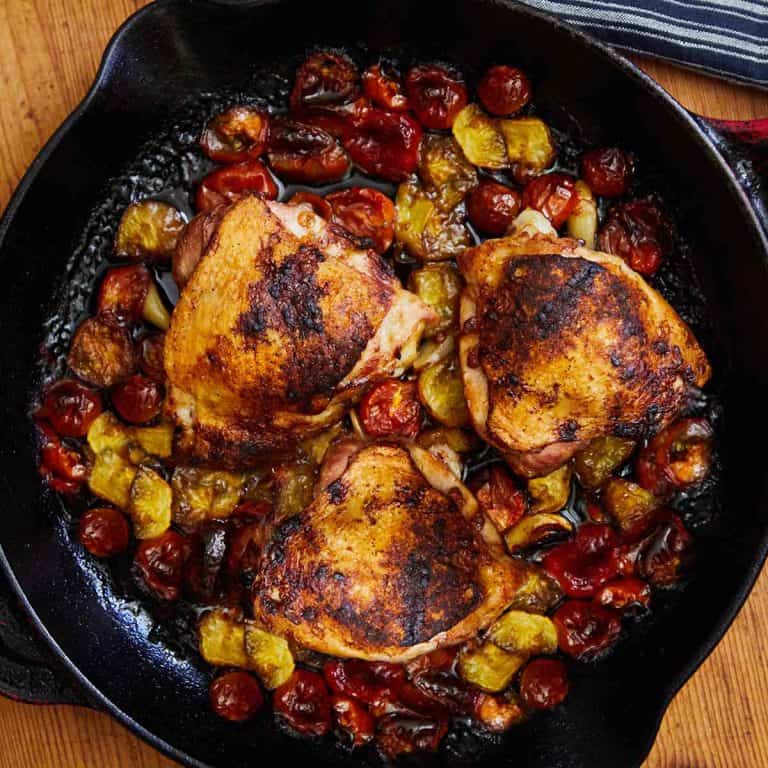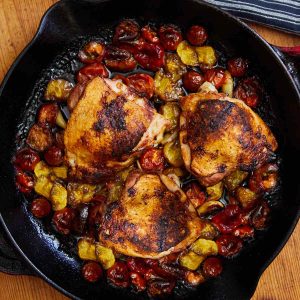 Print Recipe
Easy One Pan Balsamic Chicken
I recently made this dish for a dinner party of 28 guests, the largest group of people I have ever cooked for. I learned a lot that night about picking the right recipes for group dinners and this chicken got rave reviews. Best of all for me, it was really simple to make so cooking 18 chicken thighs in a span of an hour was totally doable. The flavors in this dish are outstanding- the cherry tomatoes melt perfectly into the balsamic vinegar and infuse into the juicy chicken. This recipe is a home run.
Ingredients
4

chicken thighs

¾

tsp

kosher salt

½

tsp

black pepper

1

pint

cherry tomatoes

halved or quartered

5

garlic cloves

¼

cup

aged balsamic vinegar

⅛

cup

olive oil

fresh basil

for garnish
Instructions
Preheat oven to 450° F. Heat cast iron skillet over medium high heat.

Season the chicken thighs with salt and pepper (both on top and under skin).

Place the chicken thighs skin side down into the hot skillet in a single layer. No need to oil the pan. Allow the chicken to sear, untouched, for 5-6 minutes until the chicken releases without sticking to the pan. Use tongs to lift the chicken thighs and flip over each piece. If the skin sticks allow them to sear another minute or so until they release.


After turning the thighs over add tomatoes, garlic cloves, balsamic vinegar and olive oil to the skillet. Gently stir everything around a little to combine.

Transfer the skillet to the preheated oven and cook for 30 minutes until thighs reach 160° F. Check the temp using an instant read thermometer. Garnish with freshly chopped basil.
Nutrition
Serving:
1
Chimichanga
|
Calories:
348
kcal
|
Carbohydrates:
9
g
|
Protein:
19
g
|
Fat:
25
g
|
Saturated Fat:
6
g
|
Cholesterol:
110
mg
|
Sodium:
540
mg
|
Potassium:
522
mg
|
Sugar:
5
g
|
Vitamin A:
665
IU
|
Vitamin C:
28.1
mg
|
Calcium:
33
mg
|
Iron:
1.7
mg
*
Nutrition Disclaimer