Should I buy a whole Cauliflower or buy pre-packaged Cauliflower rice?
The choice is completely yours but whenever possible it's best to buy the freshest ingredient possible and that would be a whole head of Cauliflower. To chop it into small pieces all you need to do is to put it in a blender for a couple of pulses, that should do the trick. If you are short on time, definitely buy the pre-packaged Cauliflower rice.
Tips on how to make these tater tots:
These little guys can be a bit difficult to form into the perfect tater tot shape so don't be too hard on yourself. I tried both using my hands alone and also using a spoon. The spoon was the way to go because it allowed me to keep the shape nice and round. When you place the tots in your pan, they will flatten out a little, this is normal.
My favorite oil for higher temperature cooking is grapeseed oil because it is neutral in flavor and holds up when the burner flame is higher.
I added a little tapioca flour which essentially is a replacement for corn starch. It gives the exterior of these tots a more crispy texture.
Do not skip the step where you put the soft Cauliflower in the refrigerator: the mixutre needs to firm up so that the tots hold their shape so this step is key.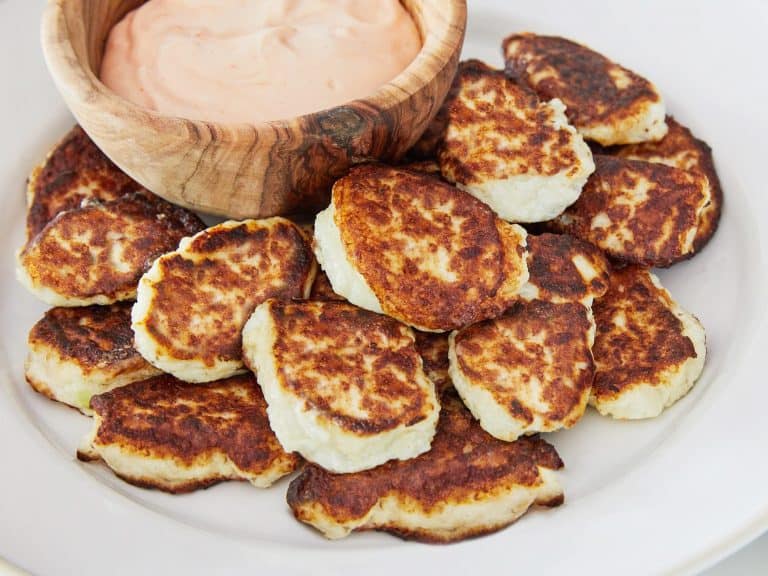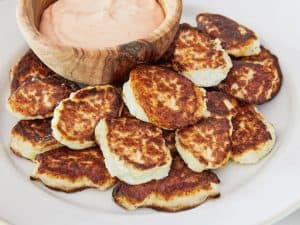 Print Recipe
Cauliflower Tater Tots
I can't believe how good these Cauliflower Tater Tots are! They give you all of the traditional tater tot goodness- the crunchy exterior and soft inside. Dip them in katsup, bbq sauce, or even guacamole... you really can't go wrong. And best of all this recipe lets you have a healthy indulgence made with only 5 ingredients.
Ingredients
1

medium head of cauliflower or buy pre-packaged cauliflower rice.

⅓

cup

shredded goat cheddar or cheese of your choosing

4

egg whites

salt & pepper to taste

2

tbsp

of grapeseed oil
For the dipping sauce...
3

tbsp

ketchup

3

tbsp

veganaise
Instructions
Clean and trim the cauliflower, adding the florets to a saucepan filled halfway with water. Put in blender to cut the pieces of cauliflower into the size of grains of rice or a little bigger. (If using pre-packaged cauliflower rice, simply empty package into pan.

Boil cauliflower until soft, around 5 minutes. Drain and squeeze excess water from cauliflower with a paper towel.

Chill for at least half an hour.

Whip the eggs and combine with cauliflower and cheese. If the mixture is still a bit runny, chill for another half an hour.

If tots are still a bit runny, add some tapioca flour (or regular flour) to dry them out a little.

Form tots one at a time with your hands. A good size reference for the tots is about 1.5 inch by 1 inch.

Heat grapeseed oil in a pan. Once hot, add tots in batches, cooking until all sides are nicely brown.

For the dipping sauce, combine the katsup and veganaise in a small bowl.
Nutrition
Serving:
6
Tots
|
Calories:
326
kcal
|
Carbohydrates:
14
g
|
Protein:
19
g
|
Fat:
22
g
|
Saturated Fat:
7
g
|
Cholesterol:
17
mg
|
Sodium:
325
mg
|
Potassium:
957
mg
|
Fiber:
5
g
|
Sugar:
6
g
|
Vitamin A:
390
IU
|
Vitamin C:
138.6
mg
|
Calcium:
116
mg
|
Iron:
1.9
mg
*
Nutrition Disclaimer