Do I need to use skewers or can I cook the chicken as a whole breast?
Slicing up the chicken into 1.5-inch pieces takes a little more preparation time but the advantage is that it will cook faster and more evenly than if you cook the entire breast and slice it into pieces after. I also found that cooking the skewers on high heat on the grill locked in the juices and make it so much tastier than if you put it in the oven. Skewers are really fun to work with as well so I would encourage you to skewer the chicken! And don't forget to buy high-quality chicken. My favorite is Mary's Organic Chicken.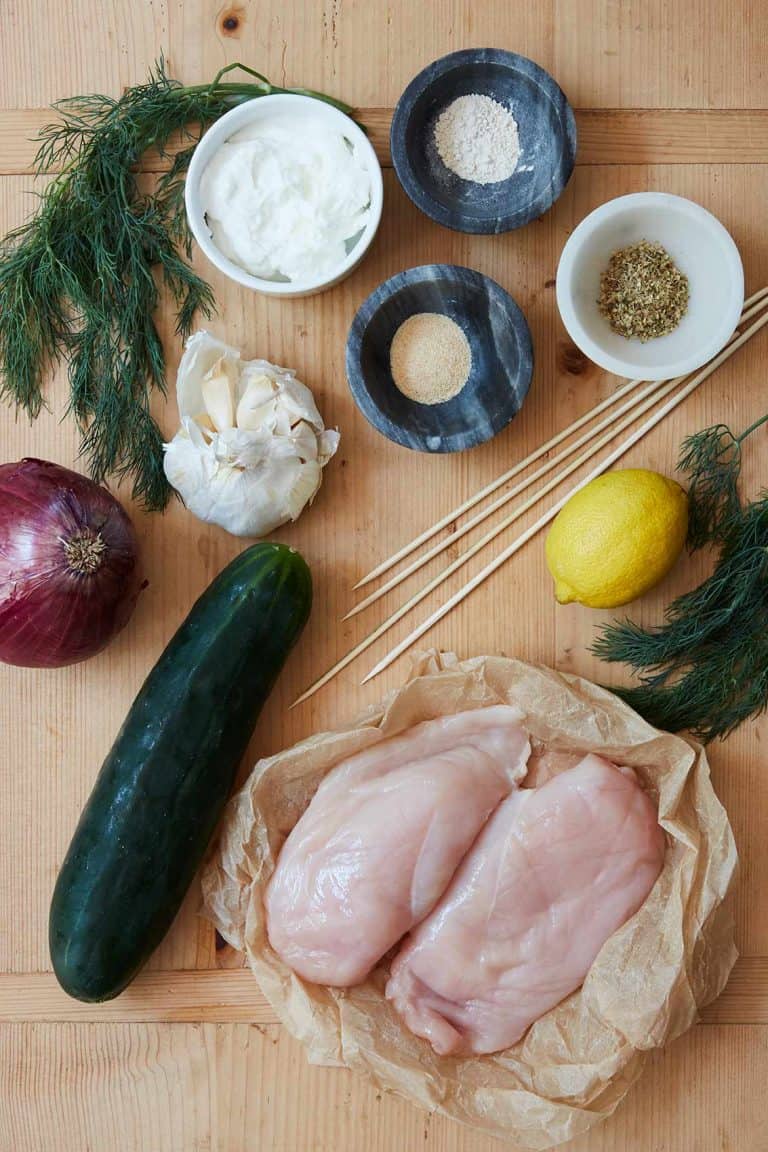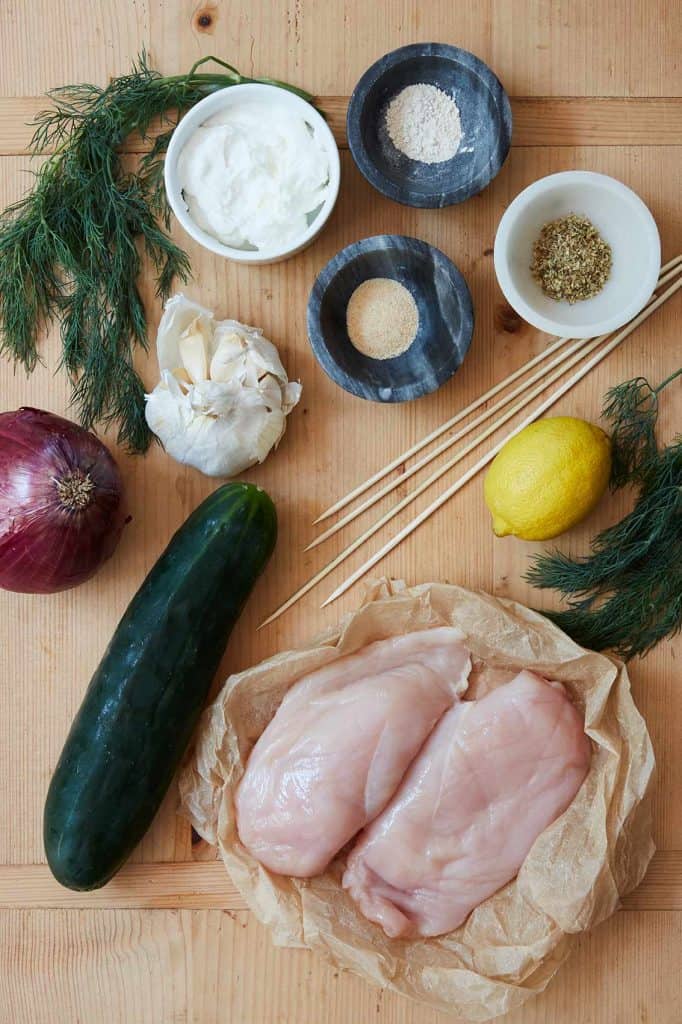 This seems like a complicated recipe. What can I do to make it simpler?
Yes, this recipe has a bunch of steps but none of the steps are technically difficult at all. Also, many of the spices that are used in this recipe are probably in your spice cabinet already. I really dislike when recipes call for very unique spices that you know you aren't going to use on a regular basis. This recipe, on the other hand, uses very common spices. If you are looking to shave some time off this recipe, the first place I would start is by removing the tzatziki dipping sauce from the steps and buying a pre-made one. It might not taste as fresh but it will save you some time.
Can I substitute anything for the red onions in the cucumber salad if I don't like those?
If you don't like onions I would advise leaving them out. They definitely add some additional flavor but they aren't 100% necessary. If yellow or white onions are ok for you, then you can try adding those. Or shallots are great red onion replacements if you like those.
If you like BBQ type food check out these other great recipes on my blog:
Recipe Video: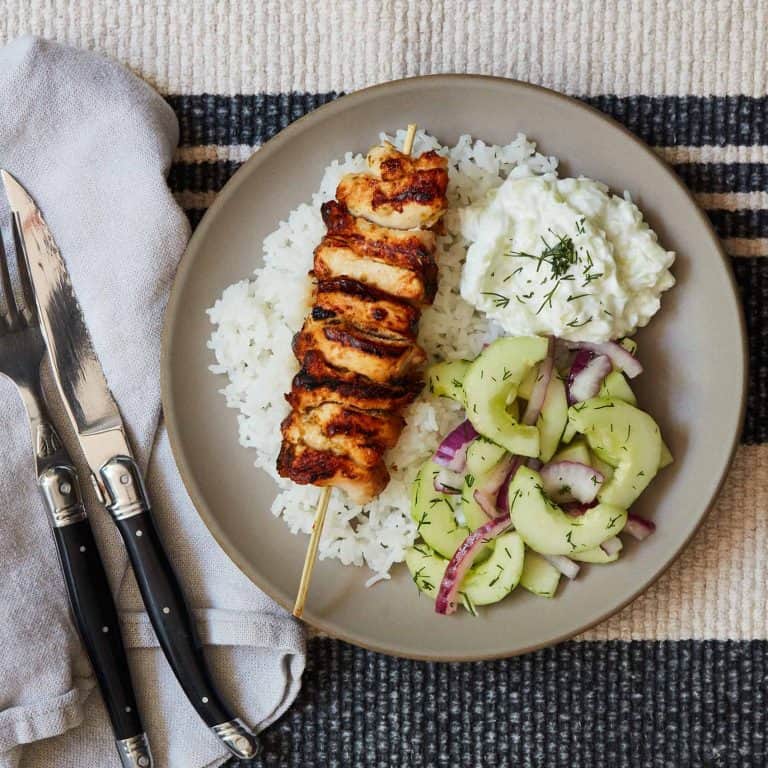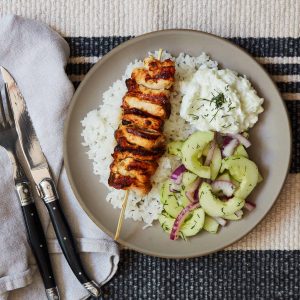 Print Recipe
Chicken Kebabs with Cucumber Salad
Summer is almost over so I'm trying to get as many BBQ days in as possible. These chicken skewers are the perfect Mediterranean style recipe that balances BBQ vibes while still be clean and really healthy. This recipe is divided into 3 parts: the cucumber salad, the tzatziki dipping sauce, and the chicken skewers. All together it looks like a lot of work but its really easy and you probably have the majority of the ingredients in your spice cabinet already.
Ingredients
For Chicken Kebabs:
4

boneless skinless chicken breasts

cut into 2" cubes

1 ½

tbsp

olive oil

3

tbsp

lemon juice

2

tsp

Mediterranean seasoning mix

½

tsp

salt

4

skewers

I used wooden skewers but feel free to use others
For Cucumber Salad:
1

cucumber

peeled

⅓

cup

red onion

sliced

2

tsp

fresh dill

chopped

1 ½

tsp

lemon juice

1 ¾

tsp

olive oil

½

tsp

salt
For Tzatziki:
1

cup

greek yogurt

½

cup

cucumber

thinly sliced cucumber

1 ½

tsp

lemon juice

2

garlic cloves

minced

¼

tsp

salt
Instructions
For Chicken Kebabs:
In a large mixing bowl, combine all ingredients and toss well until chicken pieces are all evenly coated with the marinade. Optional to let sit in fridge for 1 hour or overnight to marinate well.

Skewer chicken pieces onto skewers (not too tight) leaving a little room at the bottom of skewer.

Cook the chicken on a grill or grill pan over medium high heat. You can oil the grill beforehand to prevent any sticking. Grill on each side evenly until fully cooked (total time will be approx. 10 minutes depending on thickness of the chicken cubes).
For Cucumber Salad:
Cut the peeled cucumber in half, length-wise and scoop out the seeds with a spoon. Slice the cucumber into about ¼" pieces.

In a medium mixing bowl, combine rest of ingredients together and mix well. Set aside until ready to assemble final dish.
For Tzatziki:
Once cucumber is grated, squeeze out as much of the liquid as you can using either a paper towel/cheese cloth or using a strainer.

In a small bowl, mix the grated cucumber with remaining ingredients and mix well.

Serve tzatziki with chicken kebabs and cucumber over a bed of rice.
Nutrition
Calories:
247
kcal
|
Carbohydrates:
8
g
|
Protein:
30
g
|
Fat:
10
g
|
Saturated Fat:
2
g
|
Cholesterol:
75
mg
|
Sodium:
880
mg
|
Potassium:
654
mg
|
Fiber:
1
g
|
Sugar:
4
g
|
Vitamin A:
88
IU
|
Vitamin C:
12
mg
|
Calcium:
83
mg
|
Iron:
1
mg
*
Nutrition Disclaimer