What is the best type of fish to use in this recipe?
My choice of fish to use in this recipe was halibut. Halibut is a fantastic fish to cook with because it cooks fast, has a ton of flavor, and is mild in taste- it assumes the flavors of whatever marinade you put on it. The only issue with grilling halibut is that, because it's flaky, it can fall apart super easy. I used a grill pan on my stovetop to cook it and I would suggest you use a flat pan oven to make it easier to work with. If you want to grill your fish on the bbq, I would suggest using a meatier fish that holds together better like a swordfish or salmon.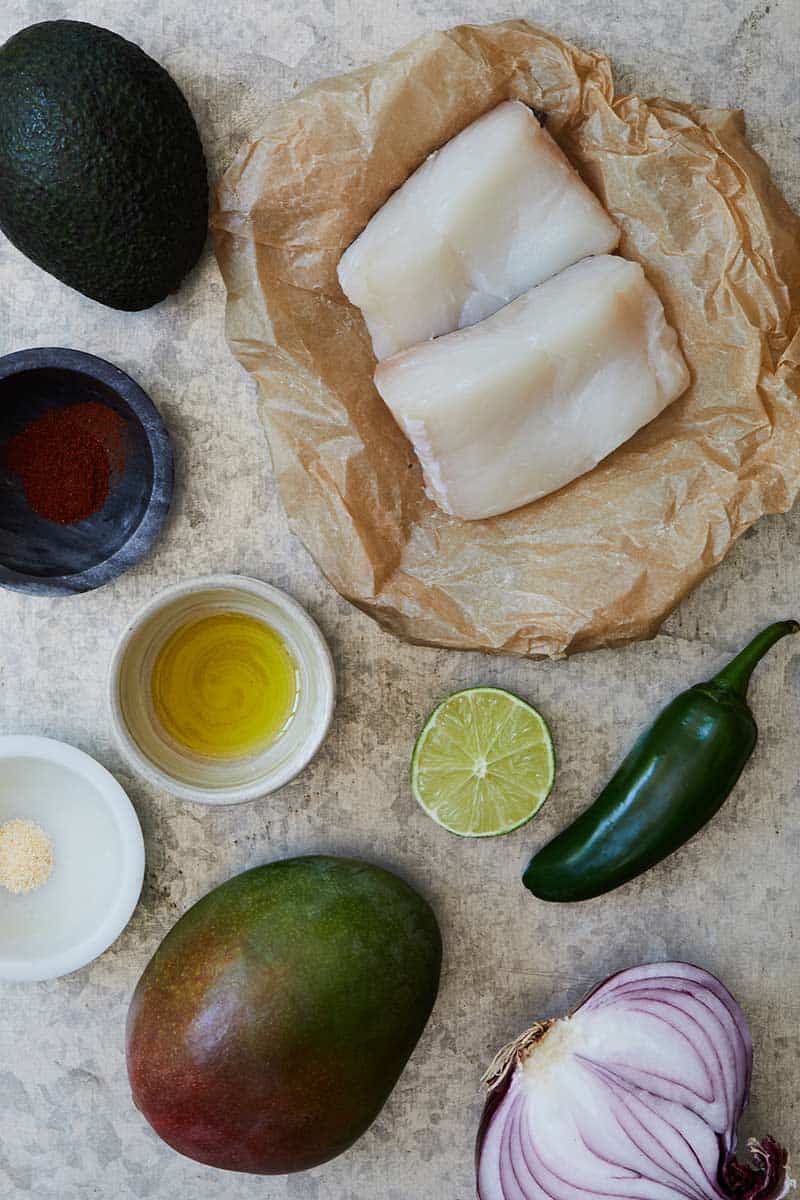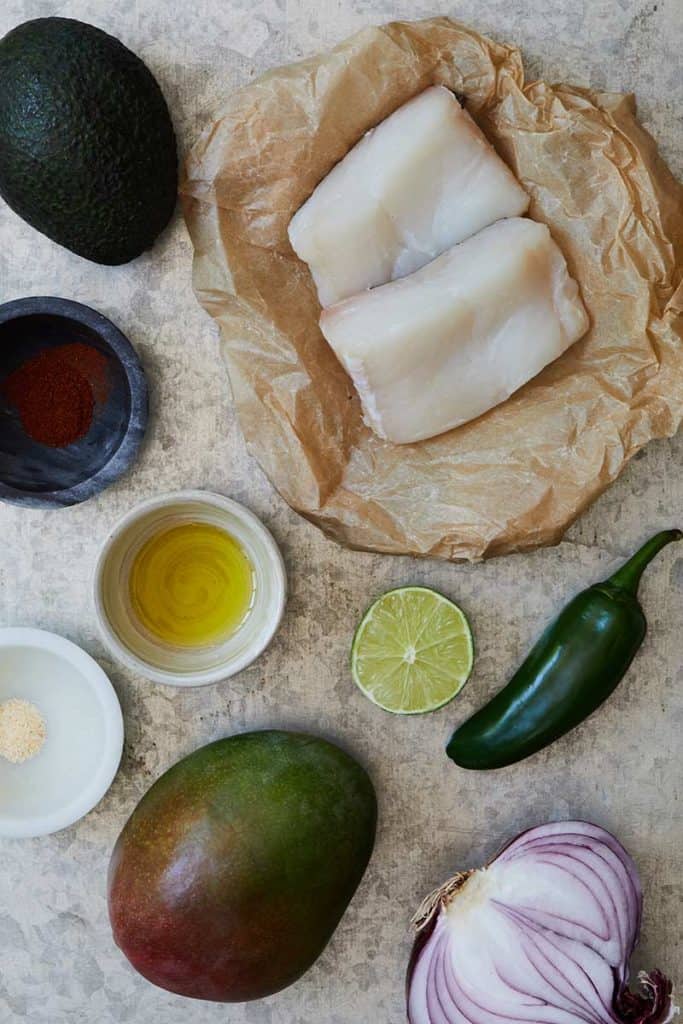 What is the best way to cut a mango?
Cutting mangos can be a little tricky but I was recently taught some good tricks. The first step is slicing off the 2 thicker sides. From there I cut off the shorter sizes. With the big pieces in hand, cut a grid of squares into the mango. After the squares have been cut, invert the piece of mango in your hand. This will push the squares out and make them easier to remove from the slices of mango. Proceed with the same technique on the other thick slice of mango. For the smaller slices, simply dice them by hand.
Here is a simple video that shows you how to do it: https://www.youtube.com/watch?v=yE0NGXZ_HBs
What are some other sides that go well with this halibut recipe?
If you are looking to add some additional elements to this meal, like a carbohydrate to make it more filling, feel free to cook up some white or brown rice. This fish goes great sitting on a bed of rice. You can also substitute the rice for a healthier grain like quinoa.
If you love fish be sure to check out these other recipes on my blog:
Recipe Video: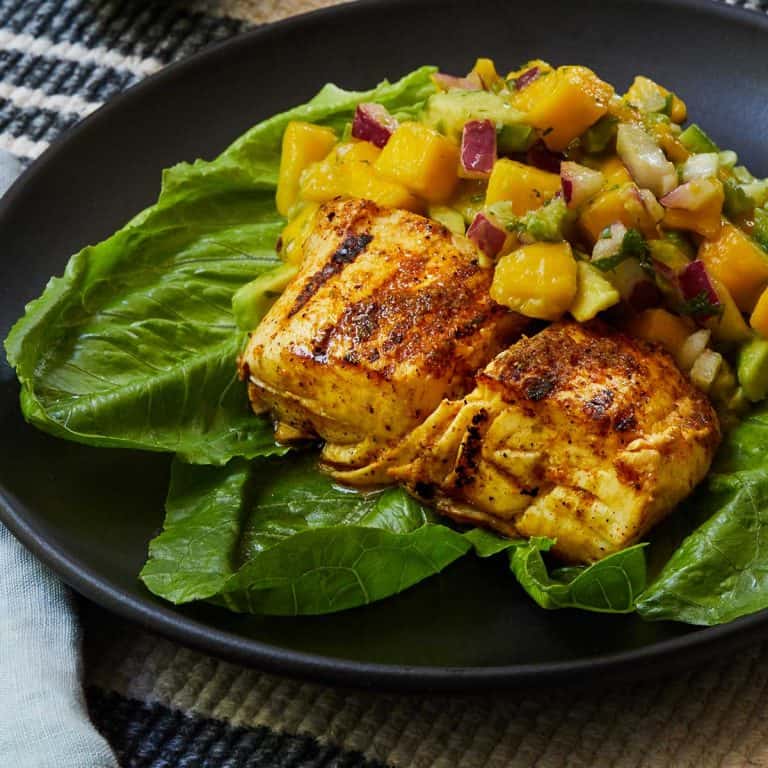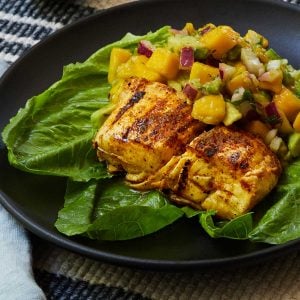 Print Recipe
Halibut with Mango Salsa
Nothing says summer quite like throwing a great piece of fish on the grill. This grilled halibut with mango salsa has the perfect blend of smoky and sweet flavors. This is thanks to the dry spice rub you marinate the halibut with in combination with the mango salsa. This recipe is a real bbq or dinner party crowd pleaser!
Ingredients
For Halibut
2

½ lb

halibut filets

1

tsp

lime zest

½

tsp

paprika

¼

tsp

chili powder

¼

tsp

garlic powder

¼

tsp

salt

1

tbsp

lime juice

1

tbsp

avocado oil
For Mango Salsa
¾

cup

mango

diced

1

avocado

diced

¼

cup

red onion

diced

¼

cup

cilantro

chopped

1

tbsp

jalapeño

diced

1

tbsp

red wine vinegar

1

lime

juiced

salt to taste
Instructions
For Mango Salsa
In a medium mixing bowl, combine all salsa ingredients together and mix well. Set aside.
For Halibut
Prepare the spice rub for the halibut by combining lime zest, paprika, chili powder, garlic powder, salt, lime juice and avocado oil in a small mixing bowl and stir well.

Rub the spice mixture onto halibut, coating all sides of the filets.

Heat up a pan/skillet to medium high heat and cook halibut filets for approx. 4-5minutes each side.

Serve the cooked halibut with spoonfuls of the mango salsa.
Nutrition
Calories:
289
kcal
|
Carbohydrates:
25
g
|
Protein:
3
g
|
Fat:
22
g
|
Saturated Fat:
3
g
|
Cholesterol:
1
mg
|
Sodium:
309
mg
|
Potassium:
673
mg
|
Fiber:
9
g
|
Sugar:
11
g
|
Vitamin A:
1415
IU
|
Vitamin C:
55.5
mg
|
Calcium:
30
mg
|
Iron:
1
mg
*
Nutrition Disclaimer