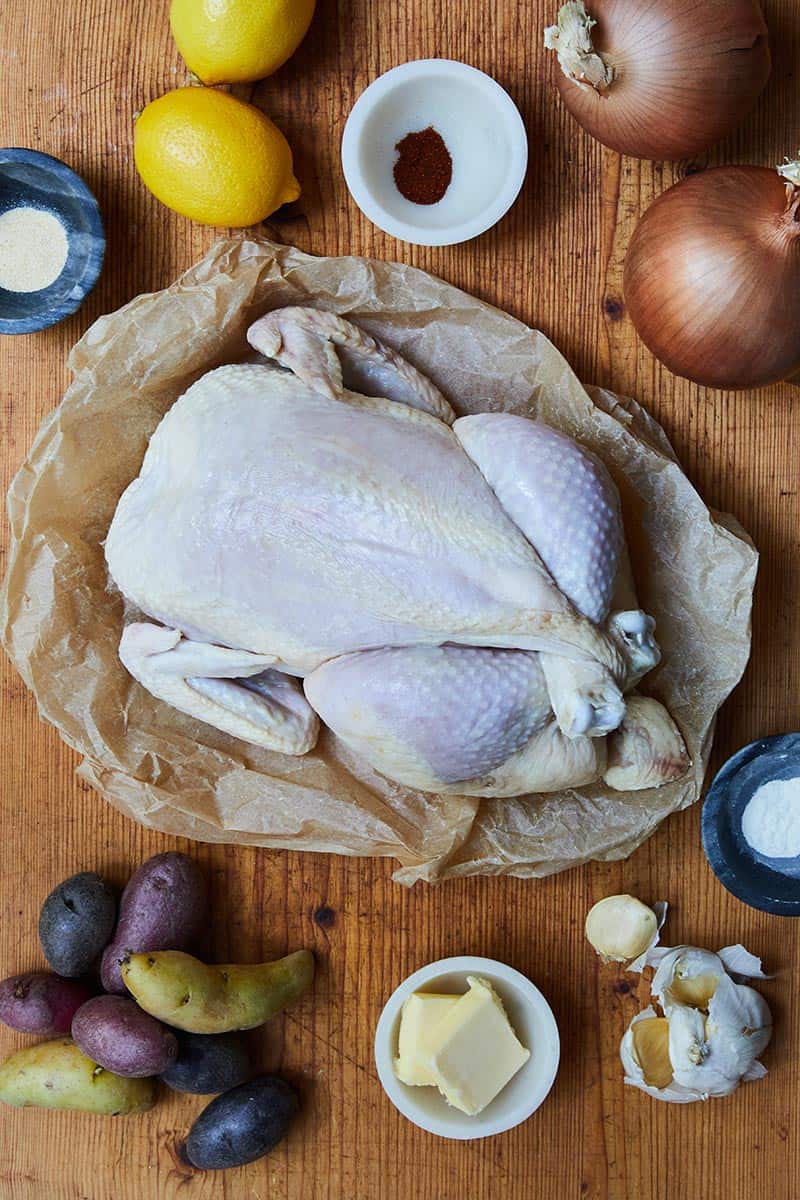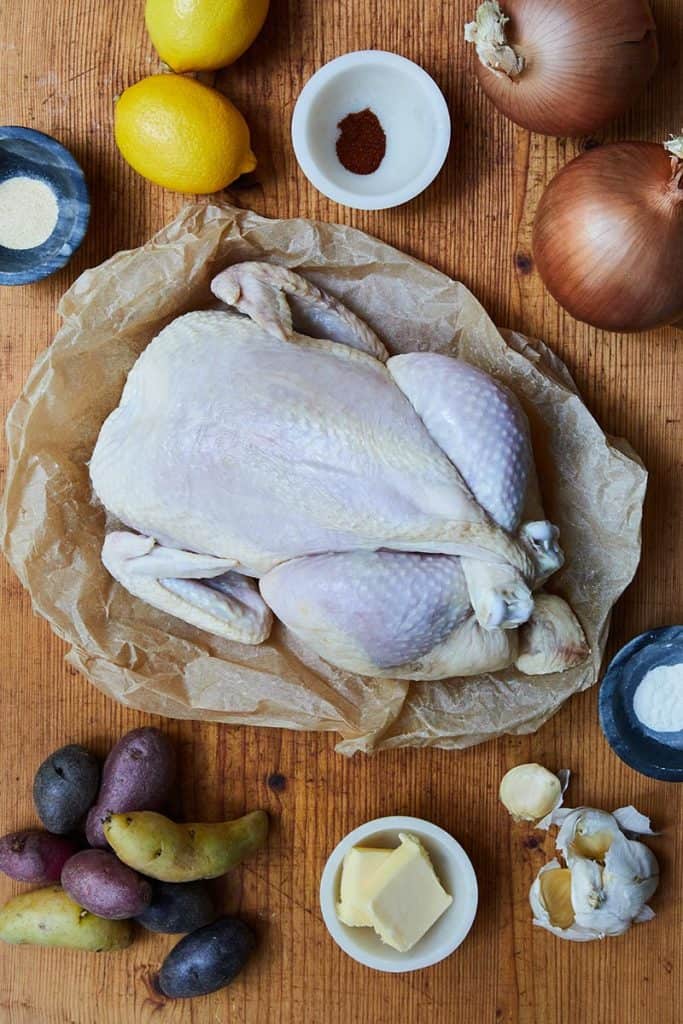 What if I'm afraid of touching a raw chicken?
Let's get this one out of the way first because whenever I talk to my friends about roasting a chicken, it is inevitably the first thing people think about. I have never been afraid to touch a raw chicken but I understand if it's a thing for you. A great tip to solve this problem is to go buy disposable cooking gloves... problem solved! I don't love creating more plastic waste so see if you can find some eco-friendly ones. Here are some I found.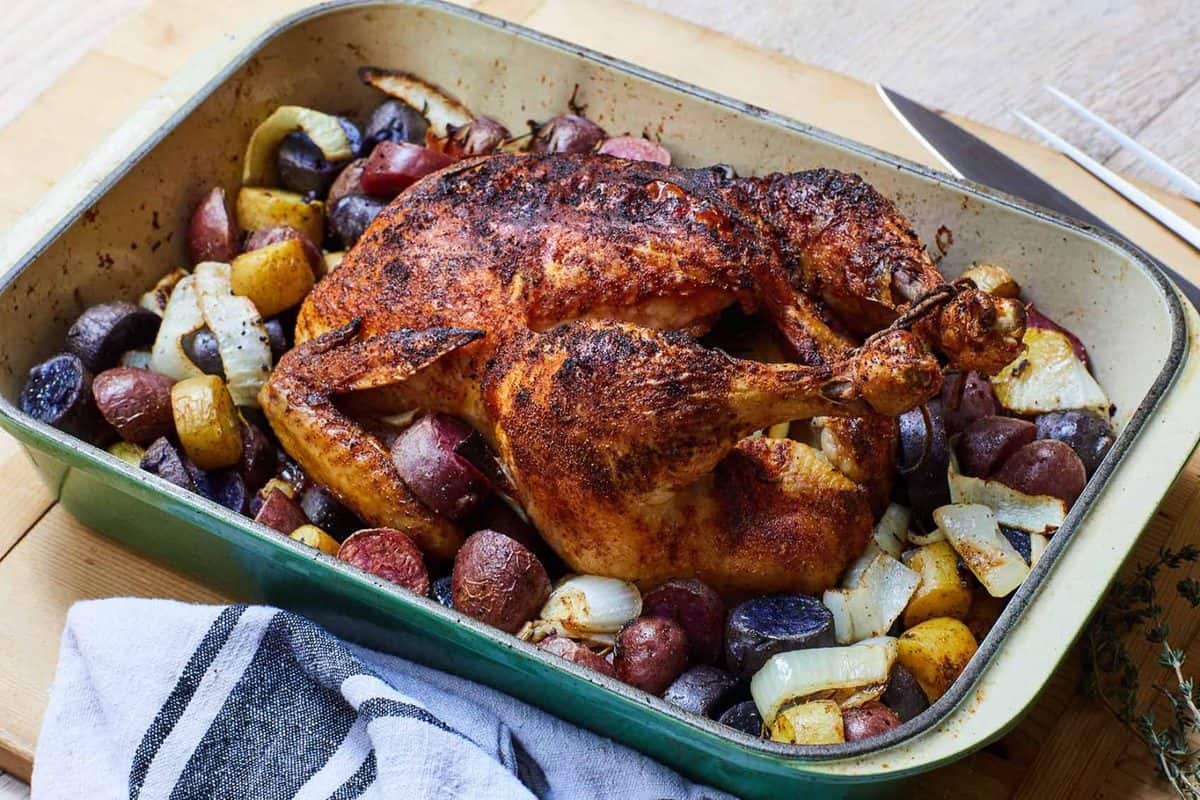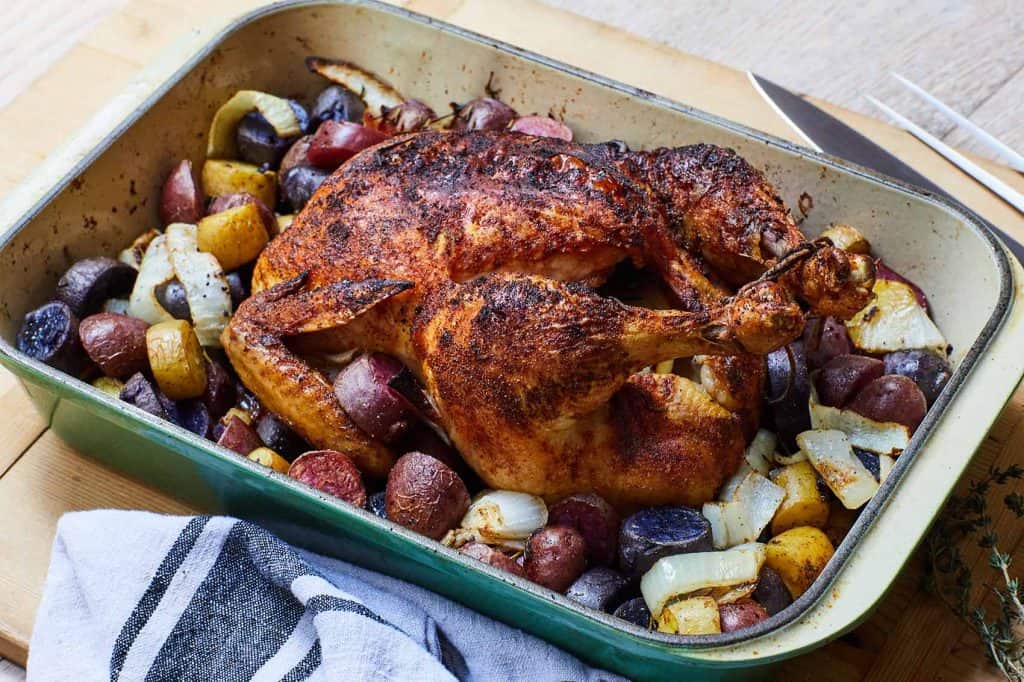 What if I see the chicken burning a little?
My style of roasting a chicken is to cook it hot and fast. This means cooking it at 450° for the first 30 minutes and then adding the potatoes and turning the heat down to 400° for the next 45 minutes. You might see the skin of the chicken forming a little char but don't worry this is completely normal. It very well might even be the dry seasonings burning a little and not the skin. If you really don't like the char you can simply scrape it off with a butter knife. I feel that a little char gives the bird a slight smokiness that adds to the overall smell and flavor.
What vegetable side dishes go well with this roast chicken and potatoes?
A great side dish for this roast chicken and potatoes is steamed broccoli. You could roast the broccoli too, but I don't like too many roast-y flavors at one time. Sauteeing some asparagus or spinach is also a great addition to this dish.
If you love chicken make sure you check out these other recipes on my blog:
Recipe Video: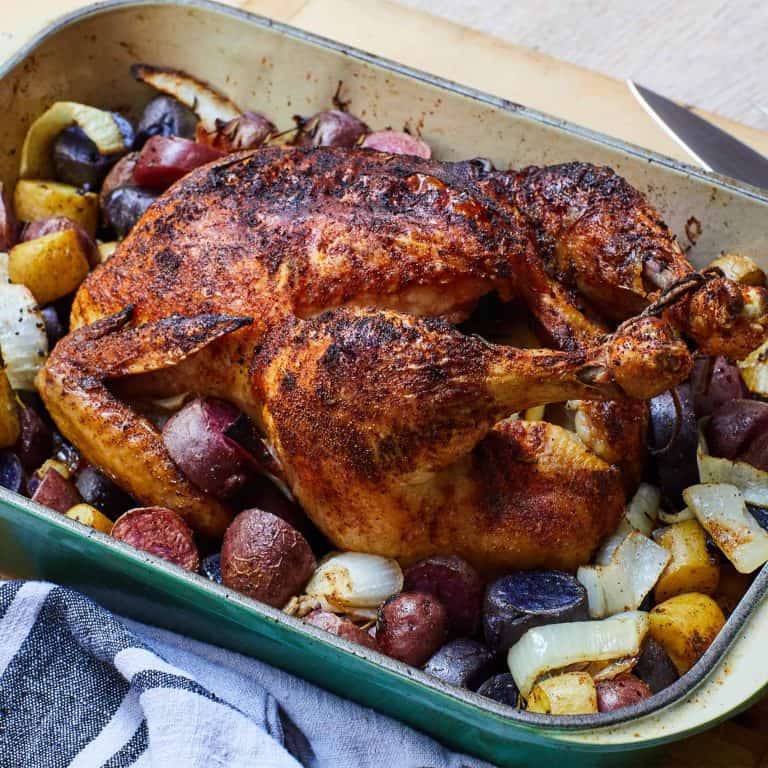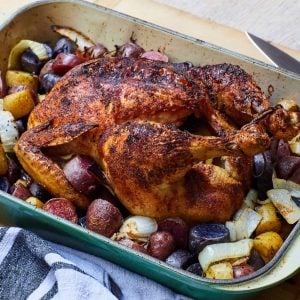 Print Recipe
Roast Chicken and Potatoes
Ingredients
1

whole chicken

2

lbs

fingerling potatoes

1

yellow onion

olive oil

4

garlic cloves

smashed

½

lemon

2

tbsp

butter

melted

4

tsp

onion powder

4

tsp

garlic powder

2

tsp

paprika

1

tbsp

rosemary

2

fresh rosemary sprigs

2

fresh thyme sprigs

salt & pepper to taste
Instructions
Cut potatoes in halves or quartersso they are all roughly the same size (about an inch thick) then cut ¼ of the onion and set aside. Cut the remaining onion into thick slices.

Put potatoes and sliced onion in a bowl. Drizzle over olive oil (approx. 2 tbsp) and add 2 tsp of garlic powder, 2 tsp of onion powder, salt & pepper and toss altogether. Set aside.

Place chicken in a baking dish and rub in some salt inside the chicken. Then stuff the ¼ onion, lemon, garlic, rosemary sprigs & thyme sprigs inside chicken as well.

Melt butter and drizzle over the chicken rubbing it in so it gets evenly distributed. Next drizzle some olive oil and sprinkle remaining onion powder and garlic powder, paprika and salt & pepper over outside of chicken. Optional to use cooking twine to tie the chicken legs together for baking.

Bake chicken for 30 minutes then take out chicken and place the potato and onion mixture around the chicken and put back in oven and bake for about 30 minutes longer (until fully cooked). Note: at the 15 minute mark, toss around the potatoes and onions so they bake more evenly.
Nutrition
Calories:
453
kcal
|
Carbohydrates:
33
g
|
Protein:
28
g
|
Fat:
23
g
|
Saturated Fat:
8
g
|
Cholesterol:
105
mg
|
Sodium:
136
mg
|
Potassium:
982
mg
|
Fiber:
5
g
|
Sugar:
2
g
|
Vitamin A:
691
IU
|
Vitamin C:
39
mg
|
Calcium:
57
mg
|
Iron:
3
mg
*
Nutrition Disclaimer