Crab Cakes seem pretty unhealthy so how can I make them healthier?
This recipe removes some of the more unhealthy ingredients like Mayonnaise and replaces them with their healthier counterpart- vegannaise. I also took down the amount of butter to half of what other recipes asked for and added some grapeseed oil to aid in crisping these cakes up in the pan.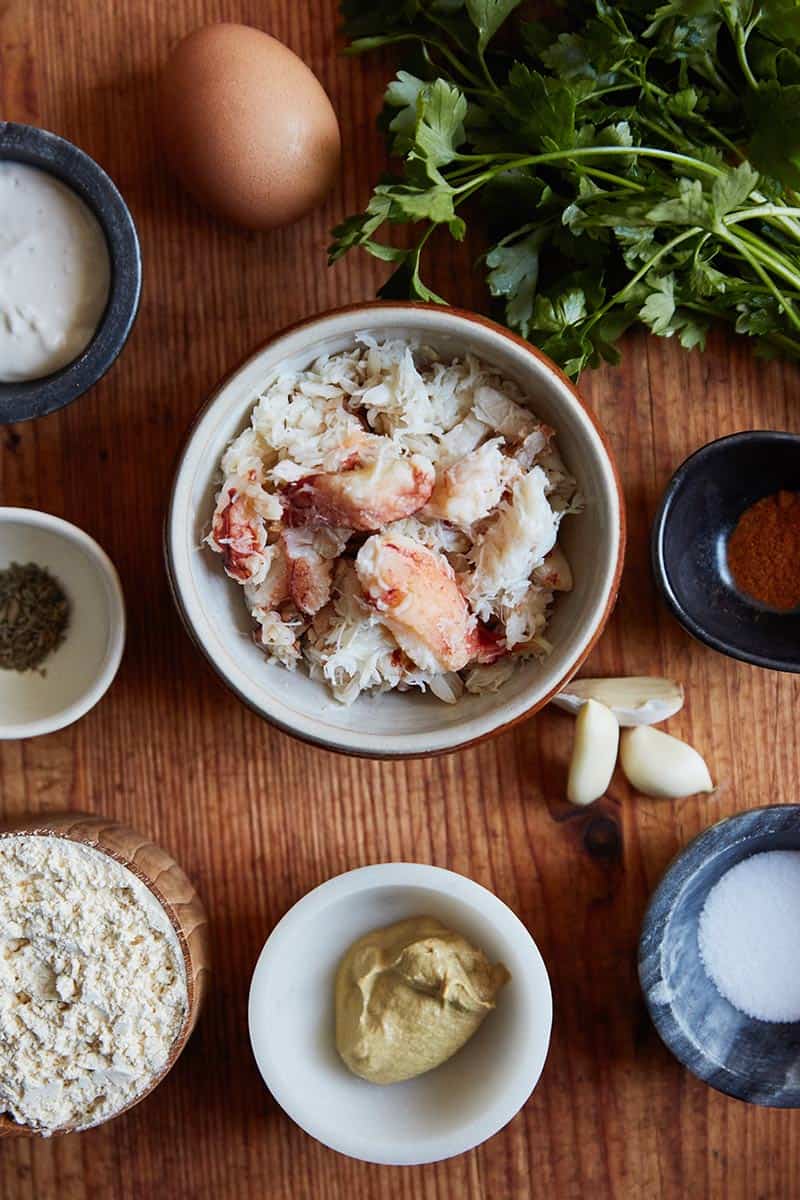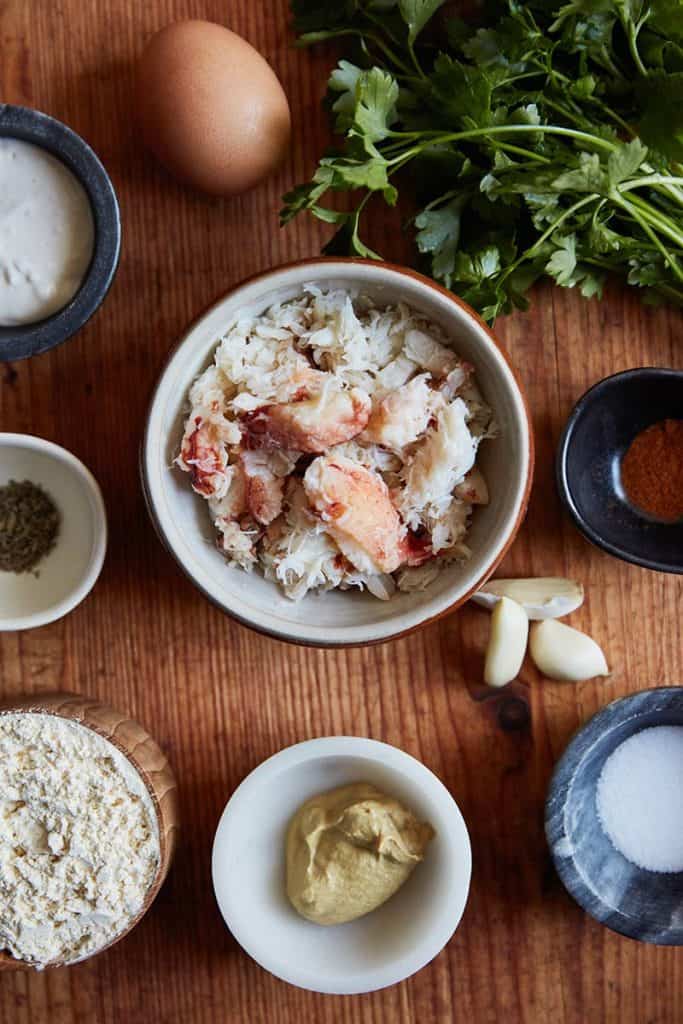 How do I know if the crab meat I am buying is fully cooked?
One sure fire way to tell if crab meat is cooked is by it's color- cooked crab meat is a nice color combo of orange and red, like in the above photo. If the crab meat you bought looks very white on the outside, is a bit translucent or rubbery, and has a slimy texture, you might want to boil it to make sure it is properly cooked.
Top tips for making the perfect Crab Cakes:
Make sure you don't skip the step where you put the Crab Cakes mixture in the refrigerator for an hour- this is a very important step because it allows the cakes to hold their shape once they hit the pan.
Make sure you don't make these Crab Cakes too low. I made the mistake of that when I cooked them. They should be about an inch tall so that you can achieve a nice crispy outside but not make them too chewy.
Recipe Video: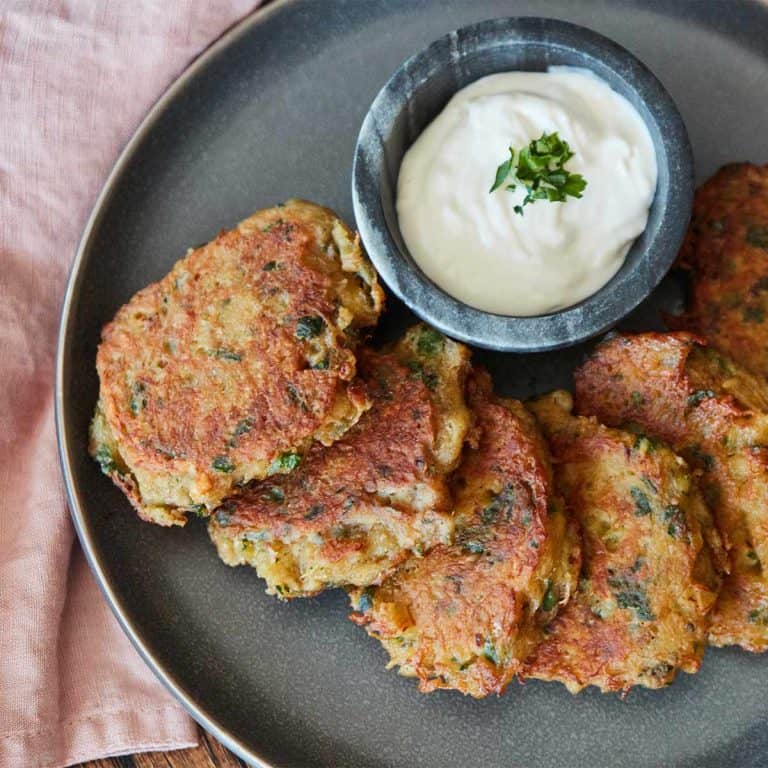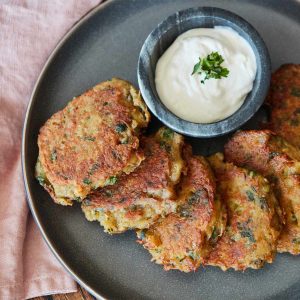 Print Recipe
Gluten Free Crab Cakes
Crab Cakes are a funny dish because they are so delicious but you only find yourself eating them at very specific occasions. For me, I find that I typically eat them when I am traveling to the East coast and/ or happen to be at a great seafood restaurant somewhere which this makes no sense- Crab Cakes are easy to make! Using this recipe, I now have the confidence to make them for any occasion. I bet you'll feel the same way too!
Ingredients
8

oz

fresh lump crab meat

1

tbsp

garlic

minced

¼

cup

parsley

chopped

1

egg

1

tbsp

veganaise

can also you regular mayonnaise

1

tbsp

Dijon mustard

½

tsp

salt

½

tsp

dried thyme

½

tsp

cayenne pepper

½

cup

all purpose flour (gluten free)

any flour of your choice can be substituted

1

tbsp

butter

for cooking

1

tbsp

grapeseed oil

for cooking
Instructions
In a medium mixing bowl, lightly beat the egg with a fork then add in crab meat, garlic, parsley, egg, veganaise/mayo, mustard, salt, thyme, cayenne pepper and flour. Mix well.

Cover the bowl and refrigerate for 1 hour.

Bring a large skillet to medium heat and add in butter and grapeseed oil.

Spoon in crab mixture to make cakes approx 2-3 inches in diameter. The mixture will make approx. 5 crab cakes. Cook on each side for approx. 4 minutes, until golden brown and crispy on the outside.
Nutrition
Calories:
200
kcal
|
Carbohydrates:
12
g
|
Protein:
13
g
|
Fat:
10
g
|
Saturated Fat:
2
g
|
Cholesterol:
72
mg
|
Sodium:
870
mg
|
Potassium:
151
mg
|
Fiber:
1
g
|
Vitamin A:
570
IU
|
Vitamin C:
9.6
mg
|
Calcium:
51
mg
|
Iron:
1.5
mg
*
Nutrition Disclaimer