What are the best kind of shrimp to buy for this recipe?
Buying the best ingredients is always important but even more so with shrimp. Try to find large peeled and deveined shrimp at your grocery store, and stay away from the very small shrimp (sometimes called "cocktail shrimp") as they overcook too easily. Look for "jumbo shrimp" in the seafood aisle as bigger shrimp cook more evenly. If they aren't peeled and deveined you can always ask the fishmonger to do it for you.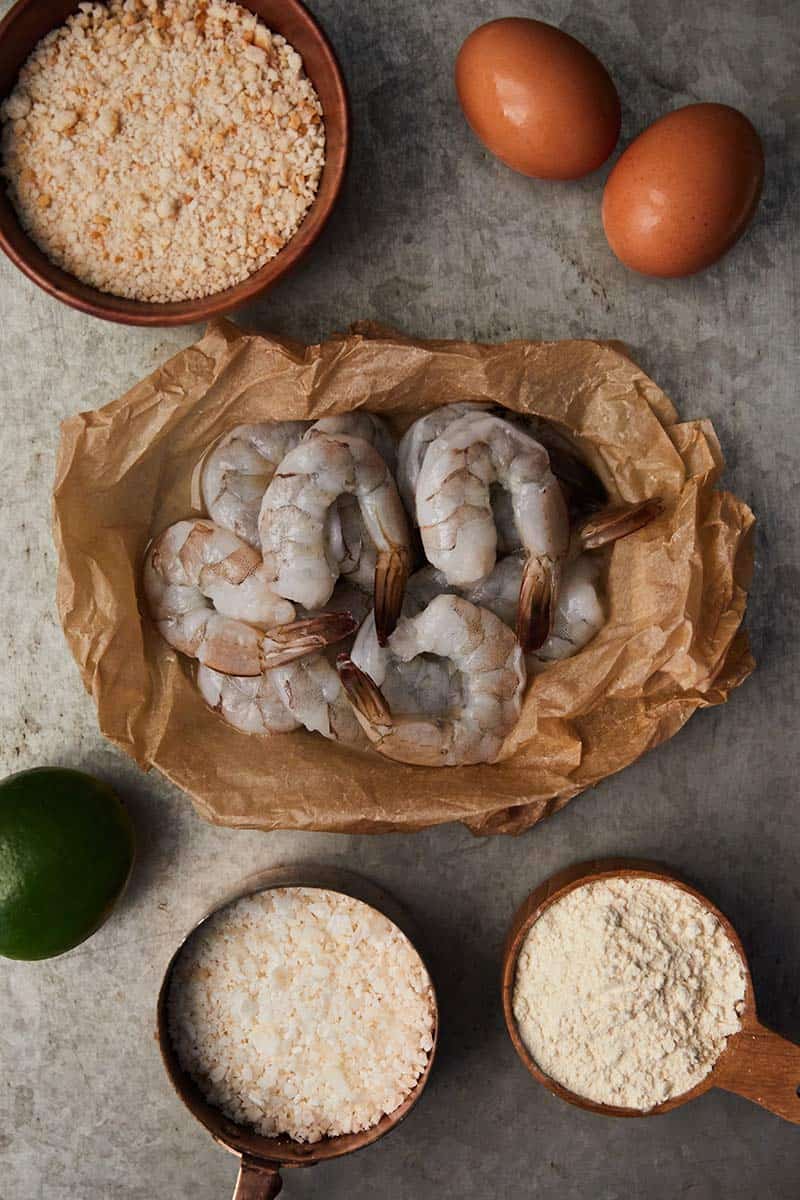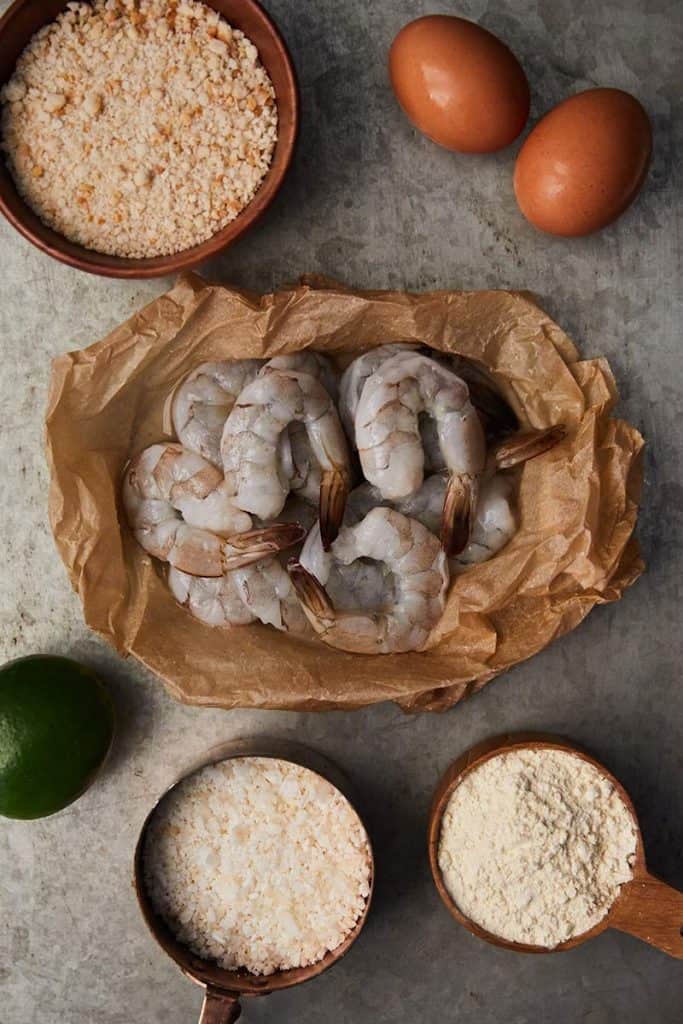 What is the best type of breading to use with these shrimp?
I like to eat gluten-free as much as possible so my breading of choice is Gluten Free Panko by a brand called Ians. They also make a non-gluten-free option that is equally fantastic.
How do I know when the coconut shrimp are fully cooked and ok to eat?
The best part about cooking shrimp is that they tell you when they are done! When you see the shrimp curl into a ball, that's the telltale sign that they are ready to eat. If you want to be extra sure, just cut one open while it's in the pan. The color of cooked shrimp should be white and a bit flaky. Uncooked shrimp will look translucent and have a slightly slimy texture.
What are some great dipping sauces for these gluten free coconut shrimp?
The most classic dipping sauce for coconut shrimp is a tartar sauce. You can also dip them in ketchup or even some melted butter.
Tips:
Wipe down the pan after cooking each batch of shrimp to remove old oil or burnt bits. This will allow every batch of coconut shrimp to come out free of burned flavor.
If you love these shrimp and want another shrimp recipe, check out my Mexican Style Shrimp and Rice recipe.
Recipe Video: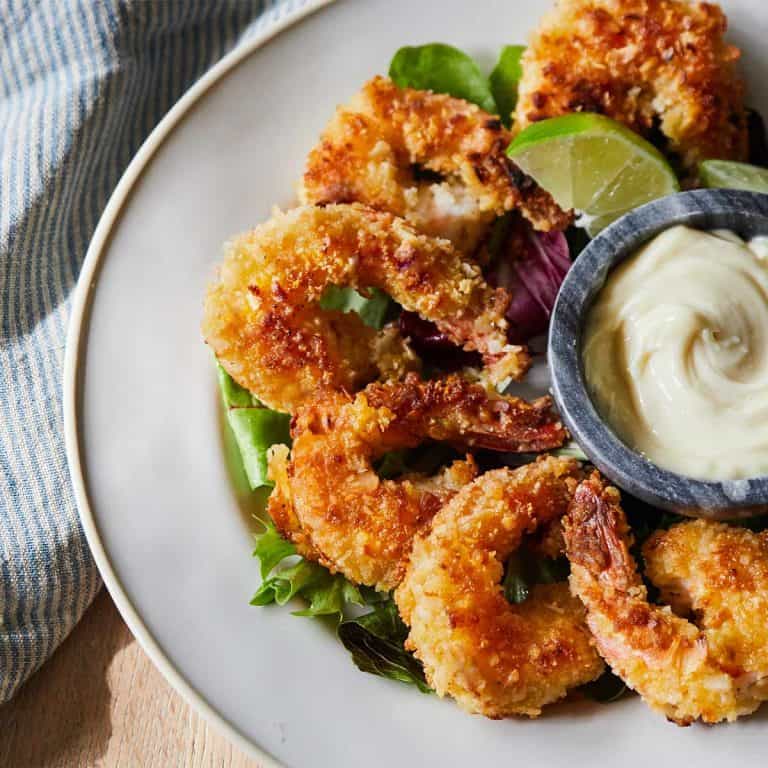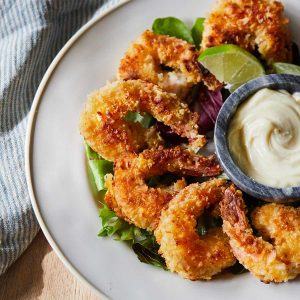 Print Recipe
Coconut Shrimp
Ingredients
1

lb

jumbo shrimp

peeled, de-veined

salt & pepper

⅓

cup

gluten-free all purpose flour

1

tsp

lime zest

2

eggs

beaten

1

cup

shredded coconut

¾

cup

panko breadcrumbs

I used gluten-free

grapeseed oil for cooking
Instructions
Season the shrimp with salt and pepper and set aside.

You will need 3 bowls- in bowl #1, combine flour and lime zest. In bowl #2, add the beaten eggs. In bowl #3, combine coconut with panko breadcrumbs.

Dip each shrimp in bowl #1, then #2 and then #3. Make sure the shrimp are coated generously. Set aside.

Heat a skillet or pan with grapeseed oil over medium heat. Fry the shrimp on each side for approx. 2 minutes or until golden brown.

Cool shrimp before serving. Serve with either tartar sauce or any of your other favorites.
Nutrition
Calories:
335
kcal
|
Carbohydrates:
26
g
|
Protein:
29
g
|
Fat:
12
g
|
Saturated Fat:
8
g
|
Cholesterol:
367
mg
|
Sodium:
1053
mg
|
Potassium:
218
mg
|
Fiber:
2
g
|
Sugar:
10
g
|
Vitamin A:
120
IU
|
Vitamin C:
4.6
mg
|
Calcium:
207
mg
|
Iron:
4.1
mg
*
Nutrition Disclaimer