Commonly asked questions:
If I don't like dark meat chicken can I use chicken breasts?
Yes, you definitely can use chicken breasts in addition to or replacing the chicken thighs entirely. If you plan on cooking chicken breasts and chicken thighs together in the grill pan, I would suggest selecting chicken breasts that are a similar thickness to the chicken thighs. The reason for this is that you want to make sure that all of the chicken pieces are cooking evenly at the same time. A chicken breast that is much thicker than a chicken thigh will take longer to cook and that can create the possibility of overcooked and dry chicken.
What kind of pan should I use when cooking the chicken?
The best pan to use when cooking this Mediterranean chicken just happens to be one of my most favorite cooking tools that I use in my kitchen- the grill pan. The grill pan is magical for many reasons, but here are a few:
Grill pans are made from cast iron which is a very durable material.
They heat very evenly and therefore cook the food evenly edge to edge.
These pans have ridges in them that create a beautiful grill-like pattern on food that just make it look delicious.
Grill pans are easy to clean.
My favorite grill pan is the Le Creuset square skillet. I have been using it for years, it is great.
What sides would go great with this chicken?
This chicken compliments a wide variety of sides- white rice or brown rice is a fantastic side to place the chicken right on top of. I also have a great cucumber salad recipe on my blog. Steamed or roasted vegetables like broccoli or asparagus are fantastic too. If you decide to go with roasted veggies, you can use a similar set of Mediterranean spices on them to create a cohesive meal experience. Try tossing some broccoli florets in a bowl with a little olive oil, salt, pepper, rosemary, oregano, a pinch of cardamom, and squeeze a lemon. Spread them out on a sheet pan and roast at 400° for 25 minutes.
If you liked this recipe be sure to check out these other great recipes on my blog: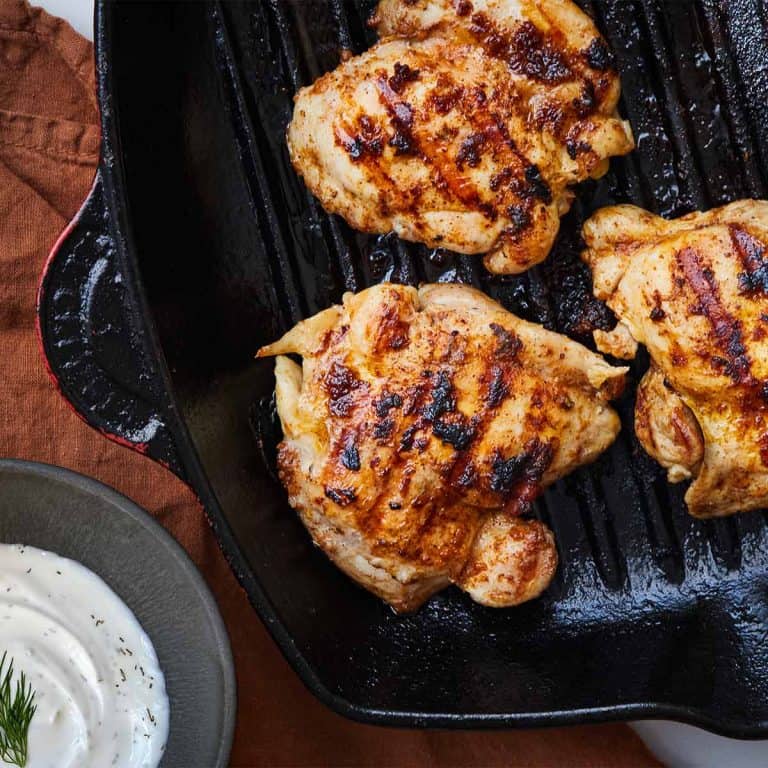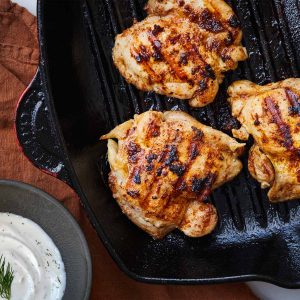 Print Recipe
Mediterranean Grilled Chicken with Dill Yogurt Sauce
Ingredients
For the sauce:
1

garlic clove

minced

⅓

cup

fresh dill

chopped

1

cup

greek yogurt

1

tbsp

olive oil

juice of ½ lemon

water

to taste
For the grilled chicken:
7

garlic cloves

microplaned or minced if you don't have a microplane

1

tsp

paprika

1

tsp

all spice

½

tsp

rosemary

½

tsp

oregano

¼

tsp

cardamom

1

tsp

salt

1

tsp

pepper

4

tbsp

olive oil

8

chicken thighs

boneless skinless

juice of 1 lemon
Instructions
Make the sauce:
First make the dill Greek yogurt sauce. Combine the minced garlic, fresh dill, yogurt, olive oil, and lemon juice in a bowl and stir until all the ingredients are well blended and a smooth sauce develops. To make it less thick add water slowly. You want to find a texture in the sauce where it is a bit runny and not too thick. Thick of a consistency that will drizzle over the chicken nicely. Cover and refrigerate.
Make the chicken:
In a small bowl, mix together the minced garlic, lemon juice, spices and olive oil. Pat the chicken thighs dry and rub each with the garlic-spice mixture.

Place the spiced chicken on a plate and cover and refrigerate for 2-4 hours or overnight.

When ready, heat a gas grill or cast iron skillet to medium-high. Place the chicken on grill or in pan. Cook for 5-6 minutes on one side, then turn the chicken over and cover for another 5-6 minutes.

Serve with a side of the dill yogurt sauce that you prepared earlier.
*
Nutrition Disclaimer