Just because summer is almost here, that doesn't mean you have to forgo the pasta 🙂 This summer squash pasta has all of the summer-y vibes you look for in a classic summer dish: fresh cherry tomatoes, pan tossed zucchini and squash, pine nuts, with a sprinkling of basil and goat cheese. Whether you choose to use gluten-free or regular pasta, this pasta is light and super refreshing. It's perfect for a small Sunday afternoon get together or equally great as a weeknight dinner for two.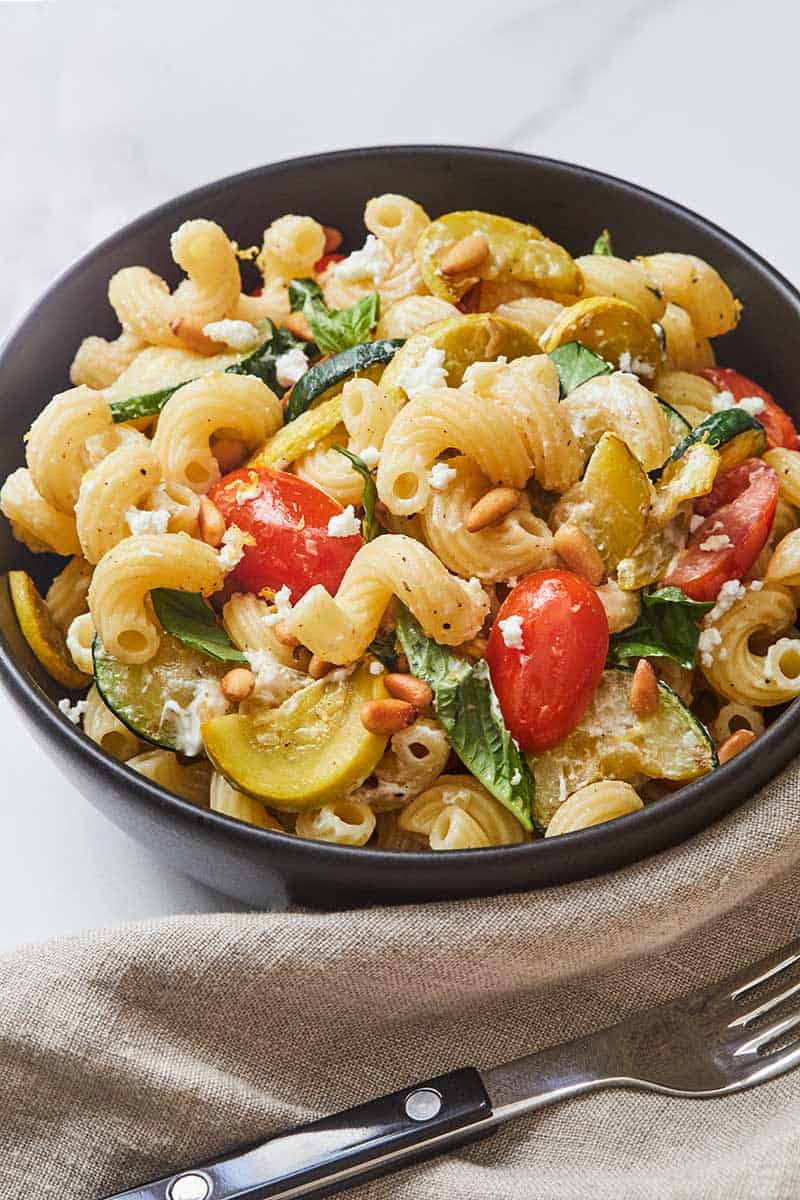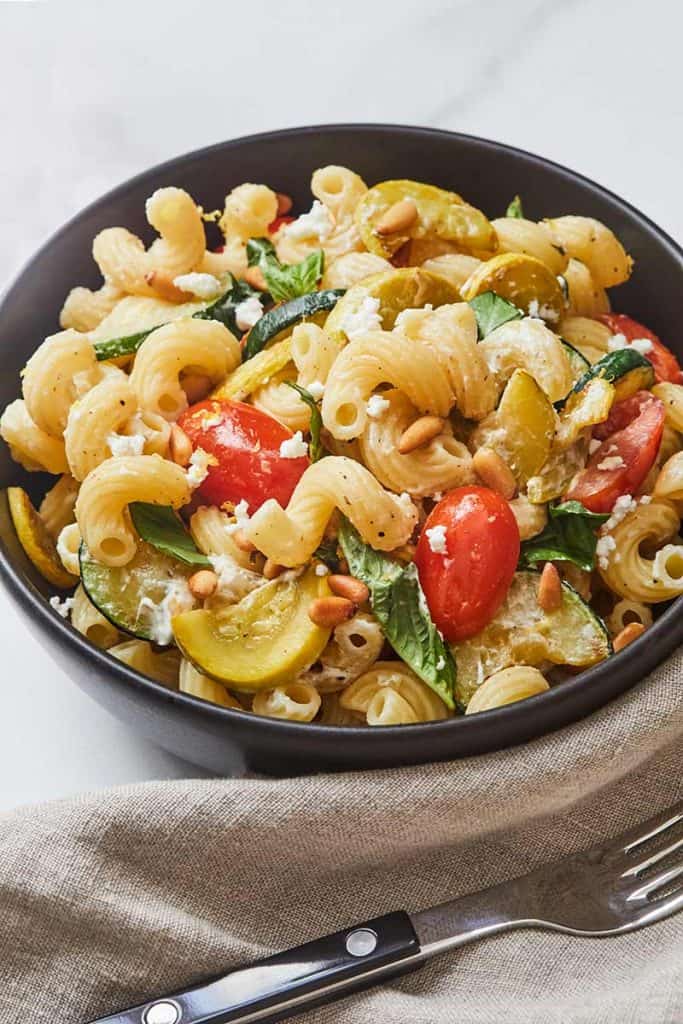 Commonly asked questions:
What pasta goes best with this recipe?
I really love the shape of Cavatappi pasta but it can be a little hard to find sometimes. You can use any kind of pasta you want but I feel like the thicker shaped pastas work best in this recipe. Penne, macaroni, and fusilli are three that come to mind immediately. But don't worry, if all you can find is regular spaghetti that will work great too.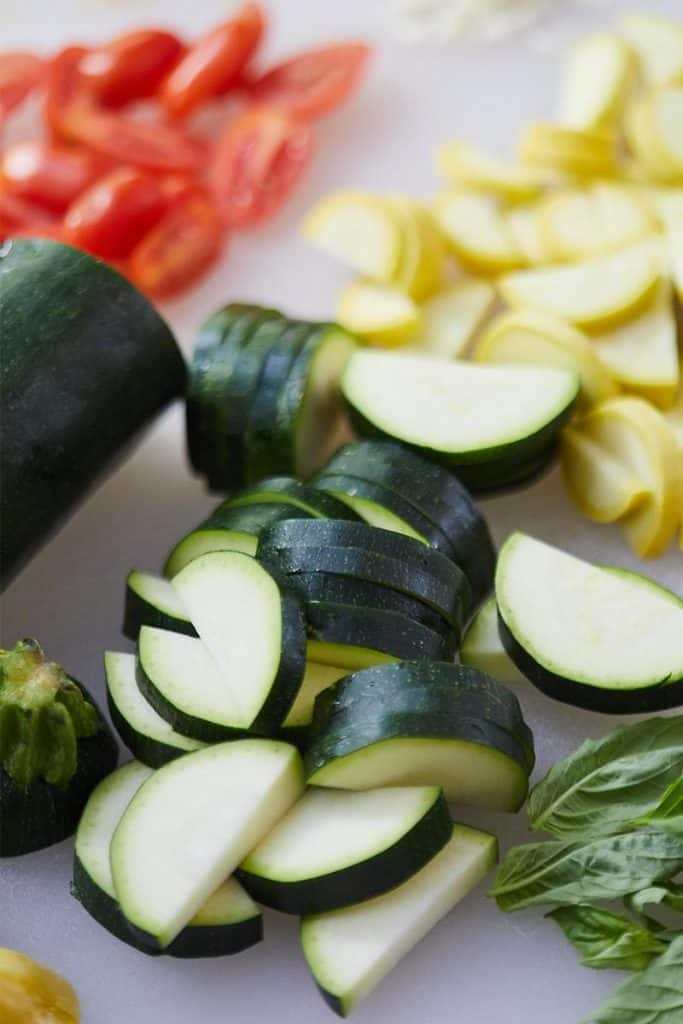 Are you sure it's ok to put hot and cold vegetables together in a pasta dish?
YES! The mix of pan roasted vegetables and uncooked, fresh vegetables, creates a layered mix of flavors that all go wonderfully together. The roasted vegetables add an almost smoky taste to the pasta that wouldn't be the same if they weren't cooked.
What cheese is best on this summer squash pasta?
In this recipe I used goat cheese because it's light and super flavorful- two key elements of all of my summer recipes. You could also use parmesan, pecorino, or feta cheese if you have trouble locating crumbly goat cheese. My favorite brand of feta is Athenos.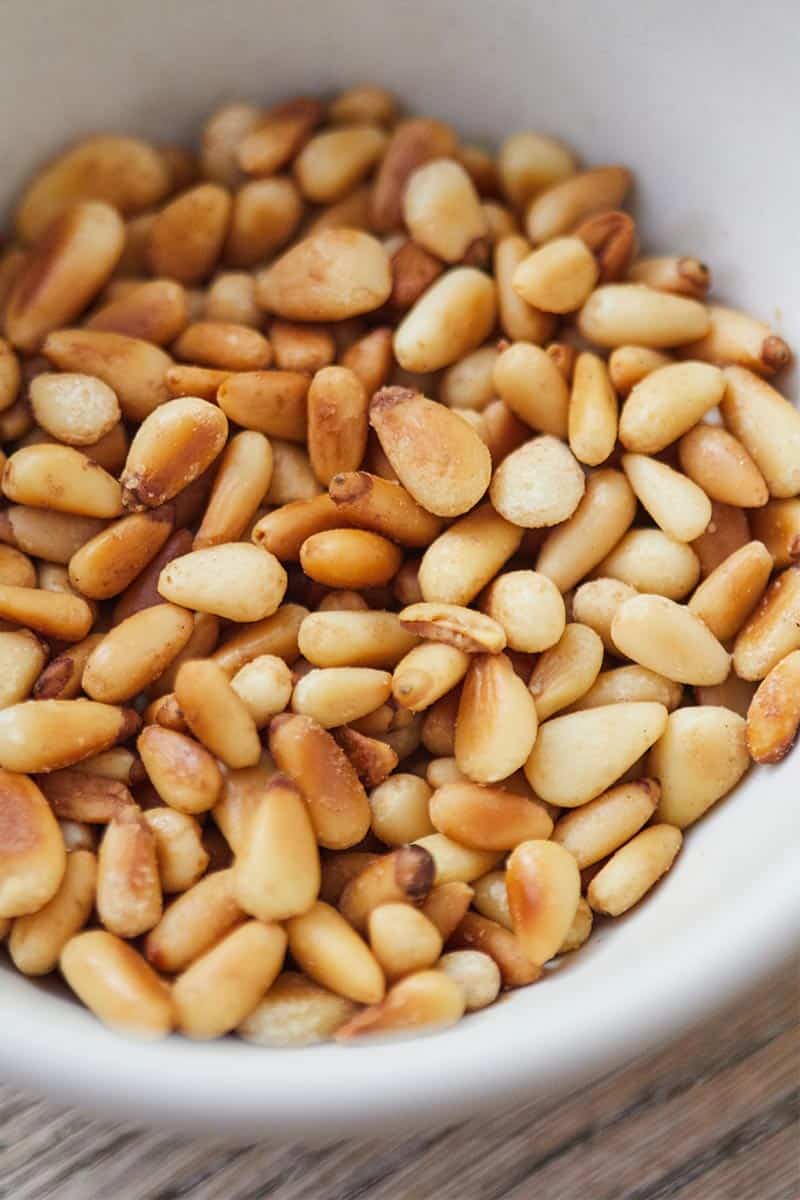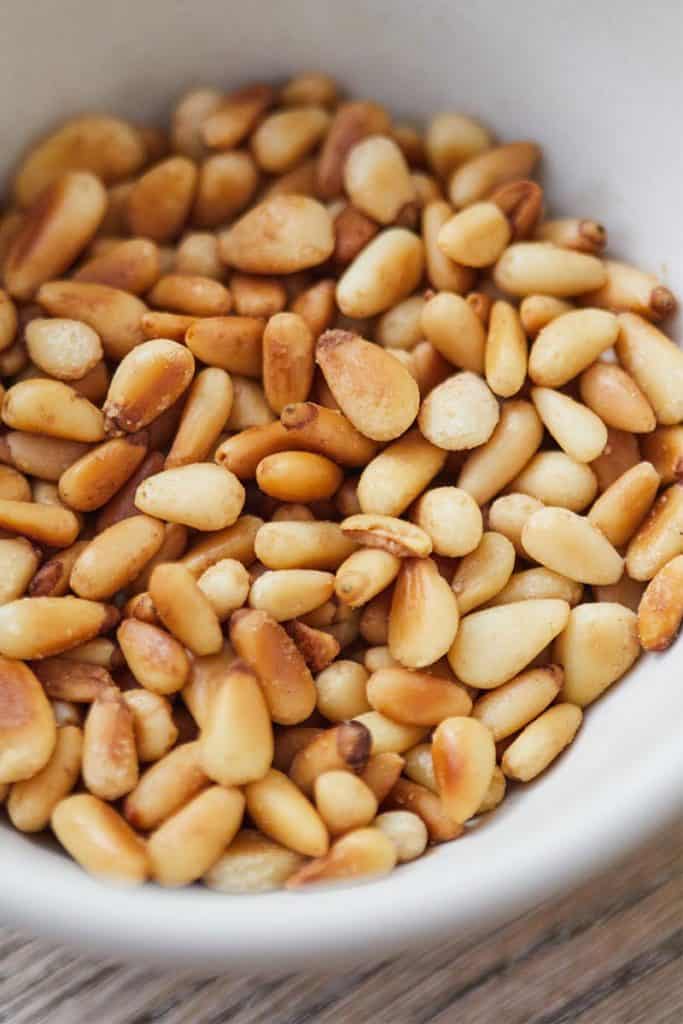 Do I need to add roasted pine nuts to this pasta?
I wasn't able to find roasted pine nuts at my local grocery store so I bought un-roasted and roasted them myself. All you have to do is toss the pine nuts in a pan with a tiny bit of olive oil for about 2 minutes. Just keep the pan moving about every 10 seconds so they don't burn. Roasted pine nuts give this pasta an incredible depth of flavor and makes every bite so much better.
How long does this pasta last in the refrigerator?
You can store this pasta in your refrigerator for up to 4 days. I would not suggest adding the goat cheese to the stored pasta if you can help it, as the cheese makes the dish not last as long. The best thing about this recipe is that you can eat it cold or hot!
If you like this recipe check out these other great recipes on my blog: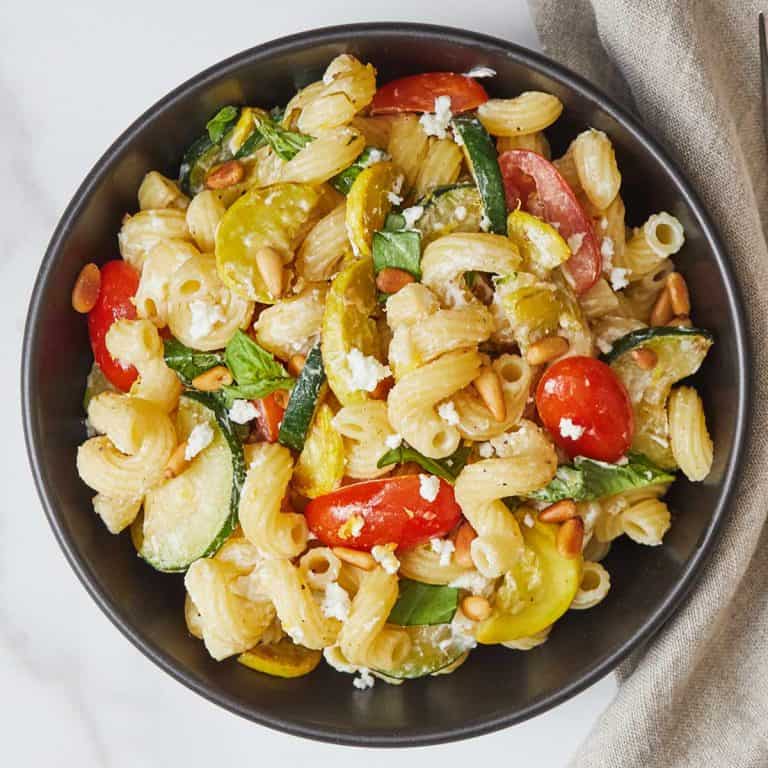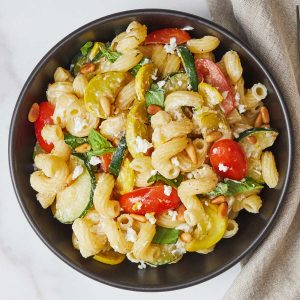 Print Recipe
Summer Squash Pasta
Ingredients
8

oz

pasta (your choice)

I used cavatappi

1/4

cup

pine nuts

2

tbsp

olive oil

2

garlic cloves

minced

1

zucchini

sliced into half rounds

1

summer squash

sliced into half rounds

1

cup

cherry tomatoes

halved

4

oz

goat cheese

crumbled

1/4

cup

fresh basil leaves

salt & pepper to taste

1

tbsp

lemon zest for garnish
Instructions
Cook pasta according to package instructions.

While pasta is cooking, heat a skillet to medium heat and add pine nuts. Stir and toast them until they are golden brown (approx. 5 minutes), then remove from heat and set aside.

Add olive oil into the skillet and add in the garlic, zucchini, squash and cook for 5 minutes until everything is softened. Add salt and pepper to taste.

Decrease heat to low and add in cooked pasta (drained) into the skillet and toss until everything is mixed and evenly coated. Crumble in goat cheese, pine nuts, basil and more salt and pepper to taste if needed. Sprinkle with fresh lemon zest optional.
Nutrition
Calories:
219
kcal
|
Carbohydrates:
6
g
|
Protein:
8
g
|
Fat:
19
g
|
Saturated Fat:
6
g
|
Cholesterol:
13
mg
|
Sodium:
114
mg
|
Potassium:
388
mg
|
Fiber:
2
g
|
Sugar:
4
g
|
Vitamin A:
750
IU
|
Vitamin C:
26
mg
|
Calcium:
64
mg
|
Iron:
2
mg