Is broccoli soup hard to make?
Broccoli soup is incredibly easy to make. There are only 5 ingredients and the total time from start to finish is only 15 minutes. As you will see in the video below, all you have to do is to saute the garlic and vegetables until soft, add in the broccoli and the liquids, bring to a boil to soften the broccoli and then use an immersion blender to blend everything into a smooth texture.
Can I make this creamy broccoli soup if I don't have an immersion blender?
Yes, you can definitely make this soup if you don't have an immersion blender. The way to do it is to let the soup cool after you have softened the broccoli. Then, place all of the soup into a traditional upright blender and blender until smooth. My favorite blender is the Vitamix. You can get a good price on an immersion blender on Amazon.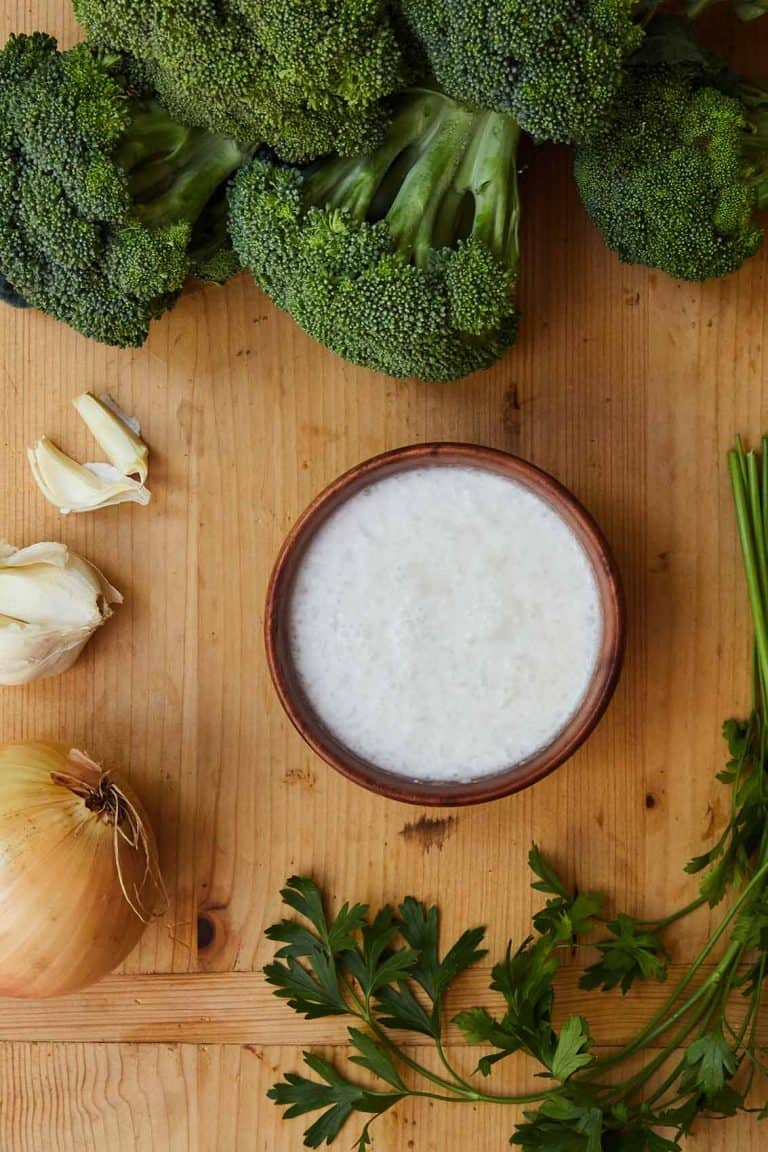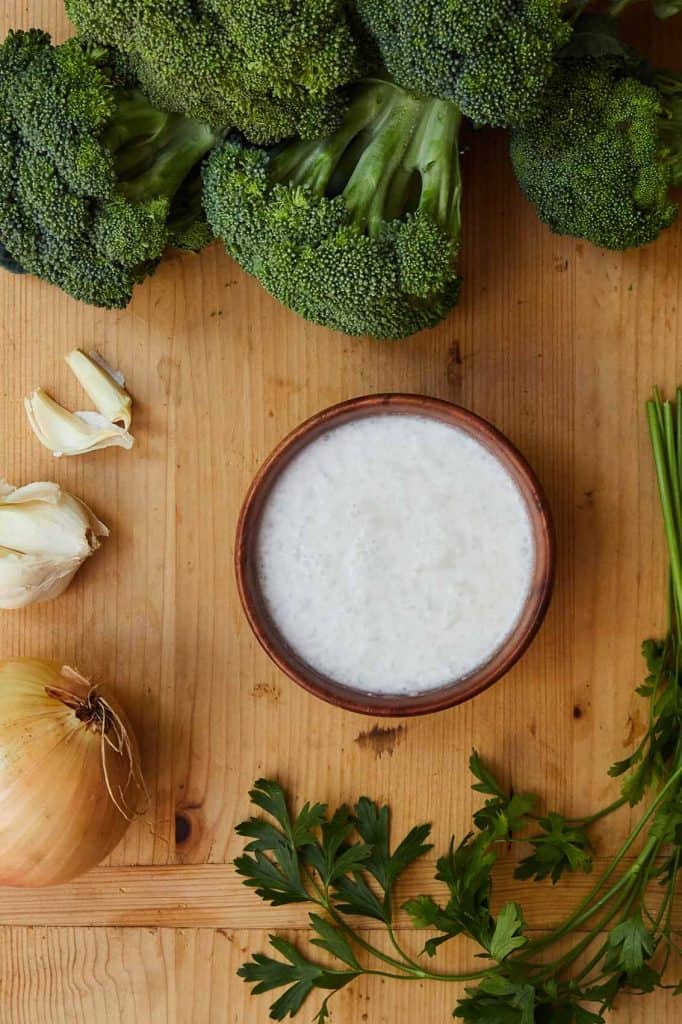 Is coconut milk healthy?
Coconut milk is full of natural and healthy fats, so yes, I would say that it is healthy to eat. The important thing to remember is that natural fats aren't bad for you. Highly processed fats are not good for you. Another example of healthy fats is avocados.
If you like this recipe check out these other great recipes on my blog:
Recipe Video: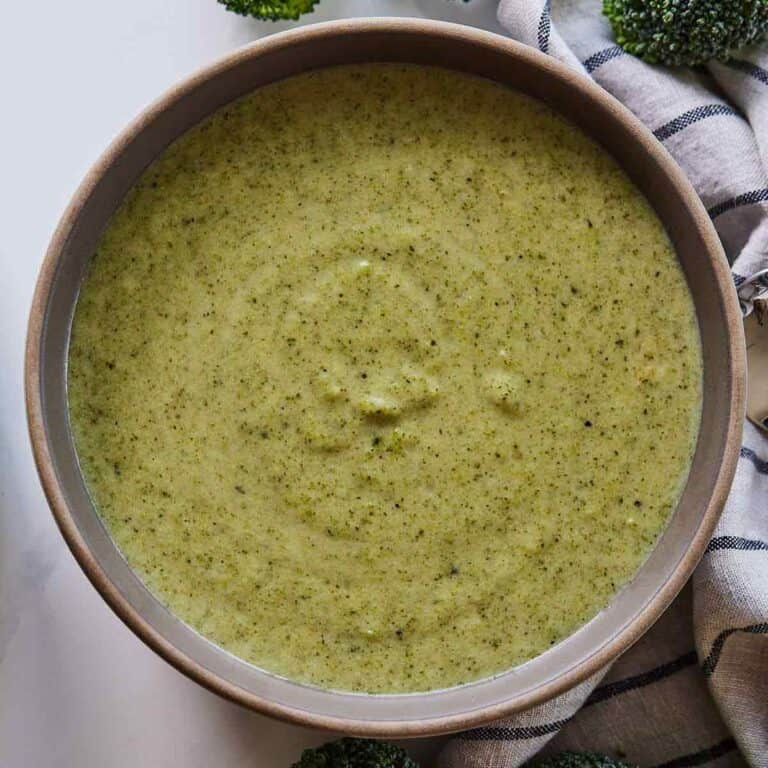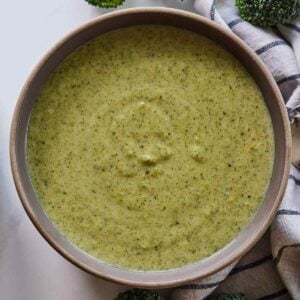 Print Recipe
Cream of Broccoli Soup
This creamy broccoli soup is packed with wholesome, delicious ingredients! The perfect way to get extra servings of vegetables without anyone noticing, it's my go-to healthy comfort food that the whole family loves.
Ingredients
4

tbsp

butter

divided in half

1

onion

chopped

3

garlic cloves

minced

4

cups

chicken broth

8

cups

broccoli florets

3

tbsp

all-purpose flour

¾

cup

cream

salt and pepper to taste
Instructions
Heat a large pot or dutch oven over medium heat and add 2 tablespoon of butter. Once butter is melted, sauté onion until soft.

Add in garlic and sauté for 1 minute.

Next, add broccoli and chicken broth and simmer for 10 minutes covered.

Use a handheld blender and puree the soup until smooth. Optional to puree soup in a regular blender as well.

Heat a small saucepan over medium-high heat and add in the remaining 2 tablespoon of butter and flour and whisk until it starts to thicken, then add to soup and stir until everything is combined.

Stir in the cream to finish off.

Salt and pepper to taste.
Notes
If you don't have an immersion blender, carefully transfer the soup to a blender. Make sure there is a way for steam to escape before blending the ingredients as the liquid is hot. Also, do not overfill the blender with hot liquid. The steam can build pressure and "blow" the top of your lid off. If the lid has a removable compartment, remove it and cover the hole with a damp towel to allow the steam to leave while keeping the liquid from splashing out.
Enjoy this soup chilled or warmed.
If using frozen florets, you can add the broccoli straight from frozen. There's no need to thaw it ahead of time.
If you prefer a chunkier soup, feel free to blend only half of the soup or blend it slightly. 
Want to turn this into a broccoli cheddar soup? Stir in a handful of shredded cheddar cheese.
Want to save yourself washing a saucepan? Skip making the roux and add the butter and flour to the soup directly and whisk vigorously to get the flour balls to dissolve. 
The roux is used to thicken the broccoli soup so don't skip it!
Nutrition
Calories:
389
kcal
|
Carbohydrates:
24
g
|
Protein:
12
g
|
Fat:
30
g
|
Saturated Fat:
18
g
|
Trans Fat:
1
g
|
Cholesterol:
91
mg
|
Sodium:
151
mg
|
Potassium:
870
mg
|
Fiber:
5
g
|
Sugar:
5
g
|
Vitamin A:
2140
IU
|
Vitamin C:
165
mg
|
Calcium:
139
mg
|
Iron:
2
mg
*
Nutrition Disclaimer